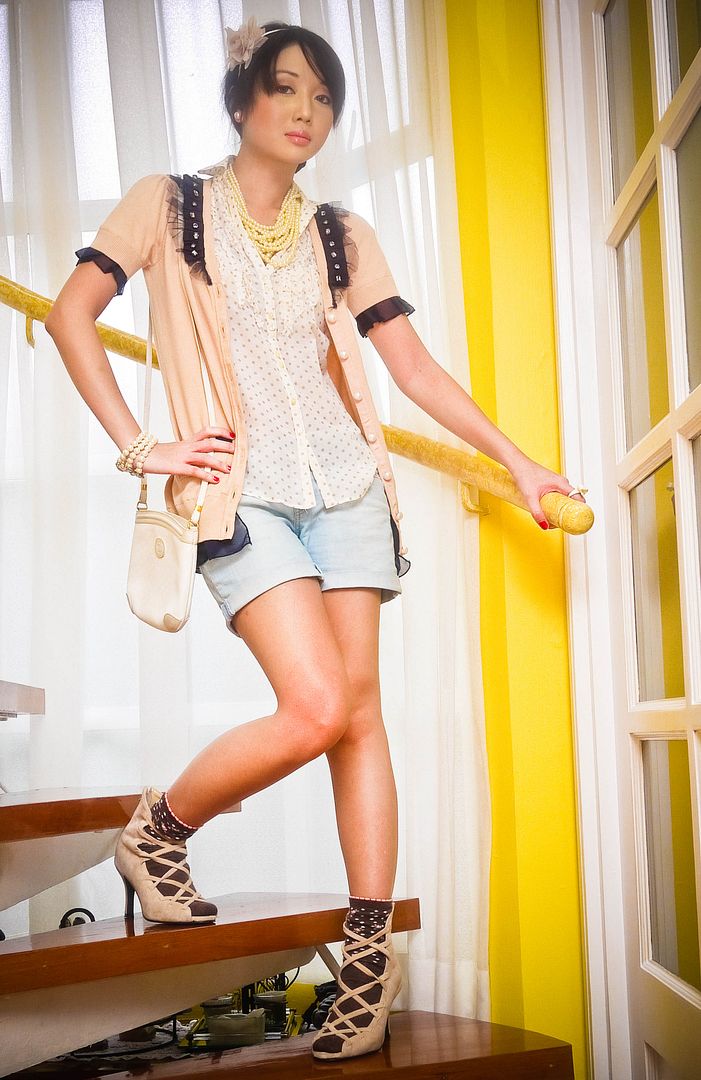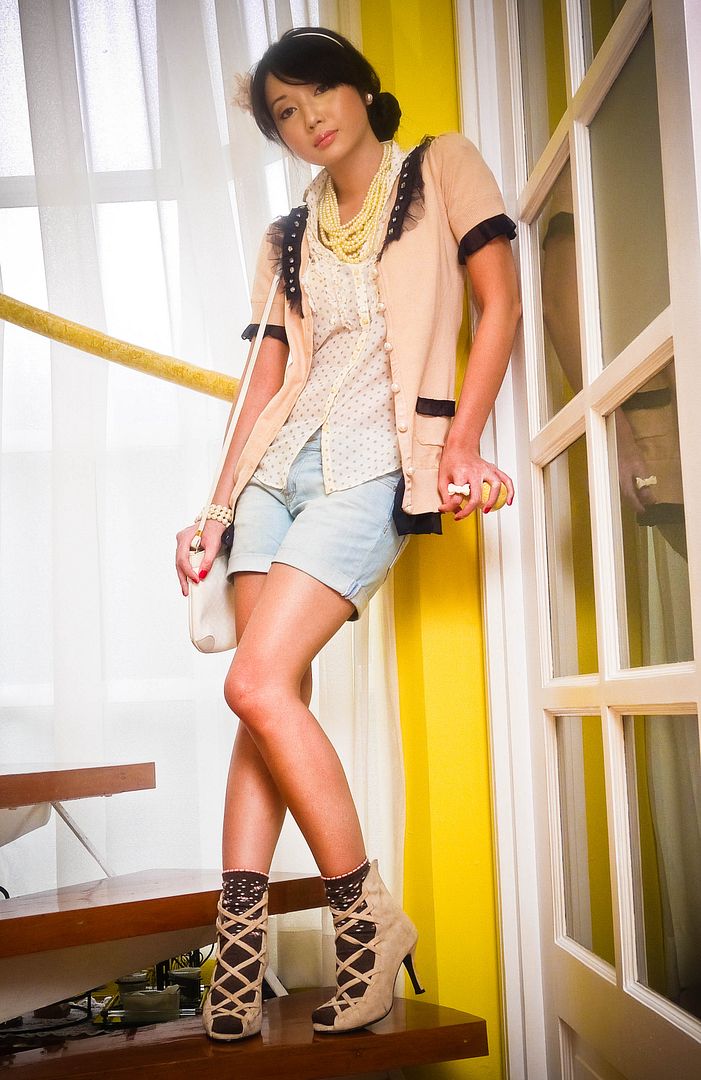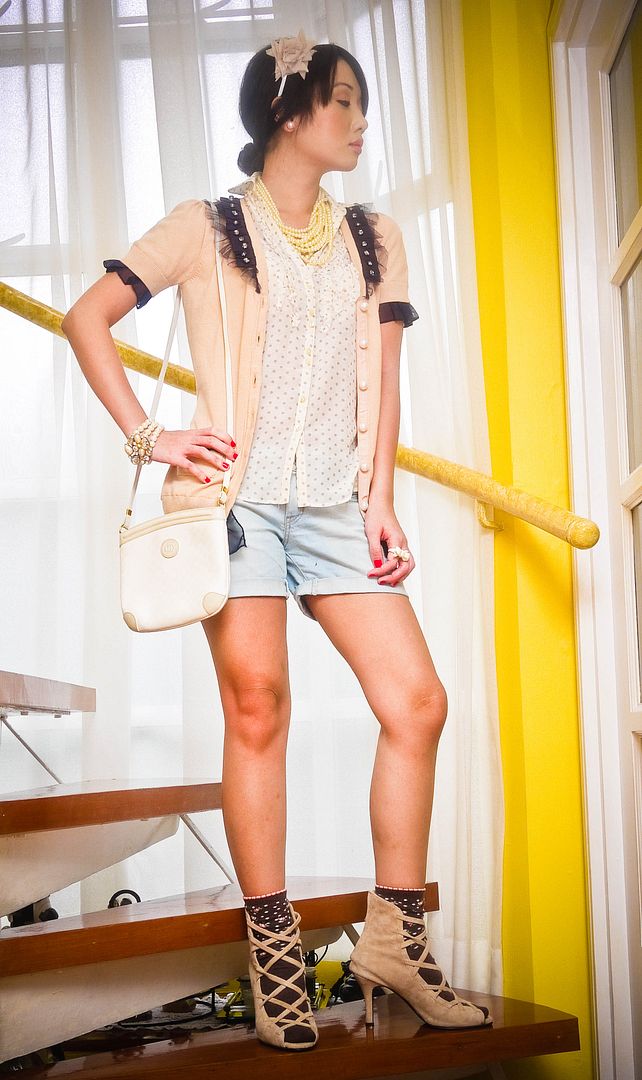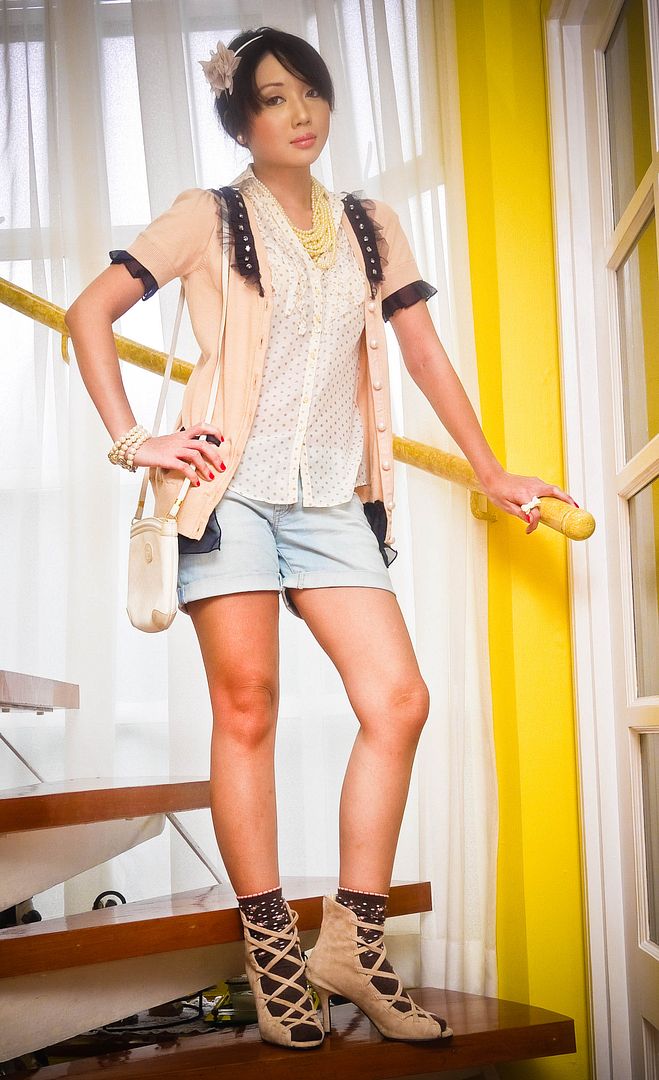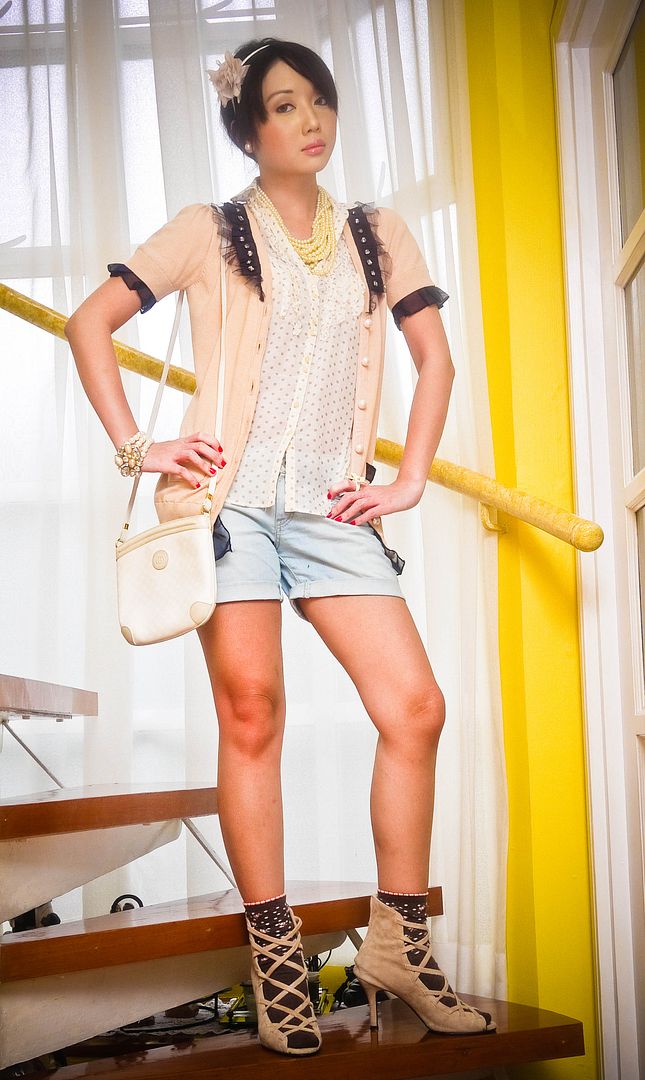 (Peachy Keen: Forever21 Knitted Cardigan, Mango shorts, Zara Polka Semi-Sheer blouse, Renegade Folk Shoes, Marks and Spencer Socks, Gucci Purse and Forever 21 accessories)


I love Metric thus the blog title which is a line from their song, Help I'm Alive. It's just so fabulous I had to wear something semi-inspired by those two lines. Thus this pastel look...soft and peachy! The cardigan was a purchase from Forever21 which finally opened here in the Philippines. When I saw this, I knew I had to get it because: pastel + pearls + ruffles in a contrasting color= LOVE. My closet instantly flashed before me and I imagined all the pieces I could pair this with and with that, the decision was made.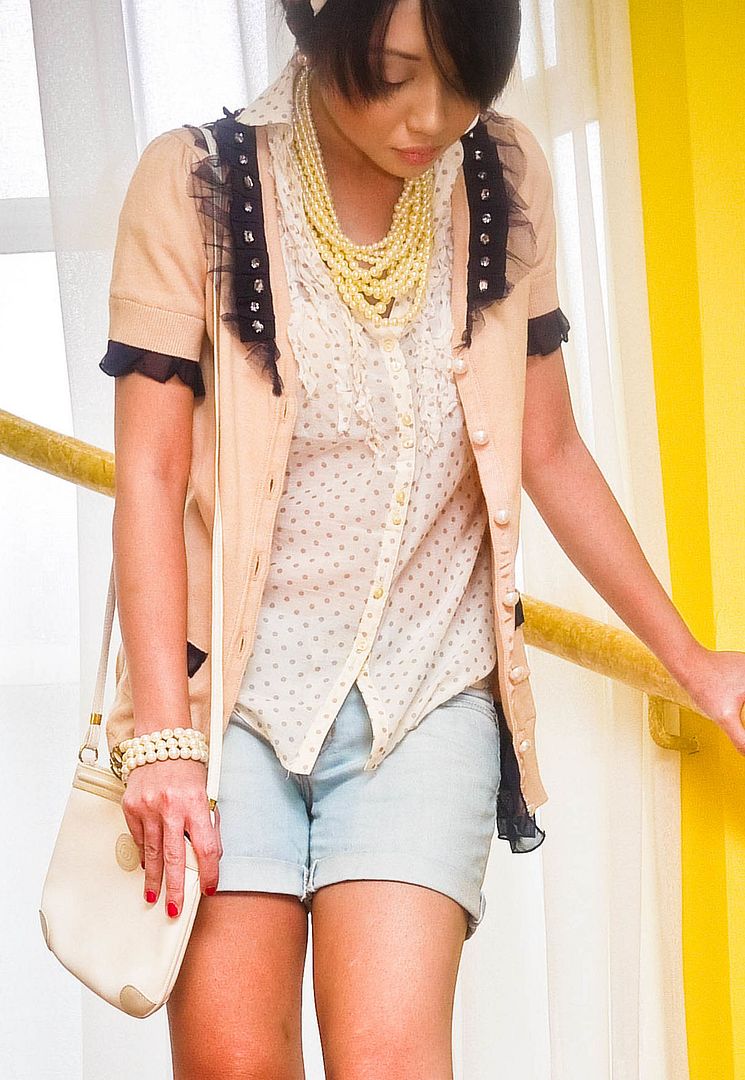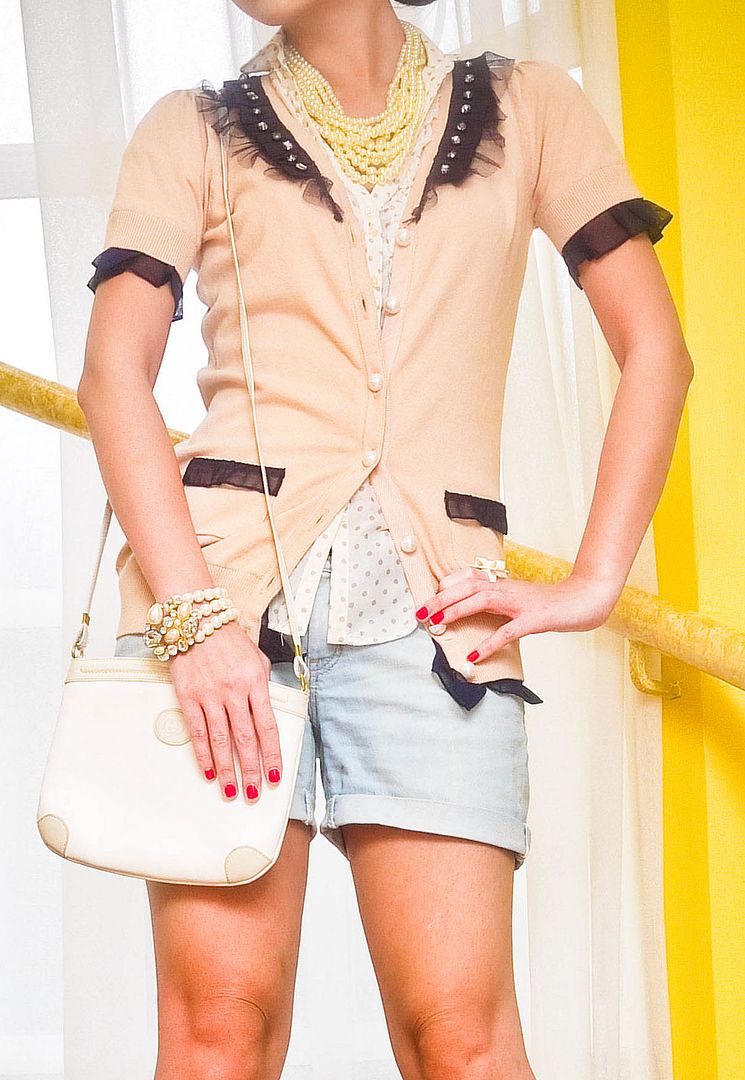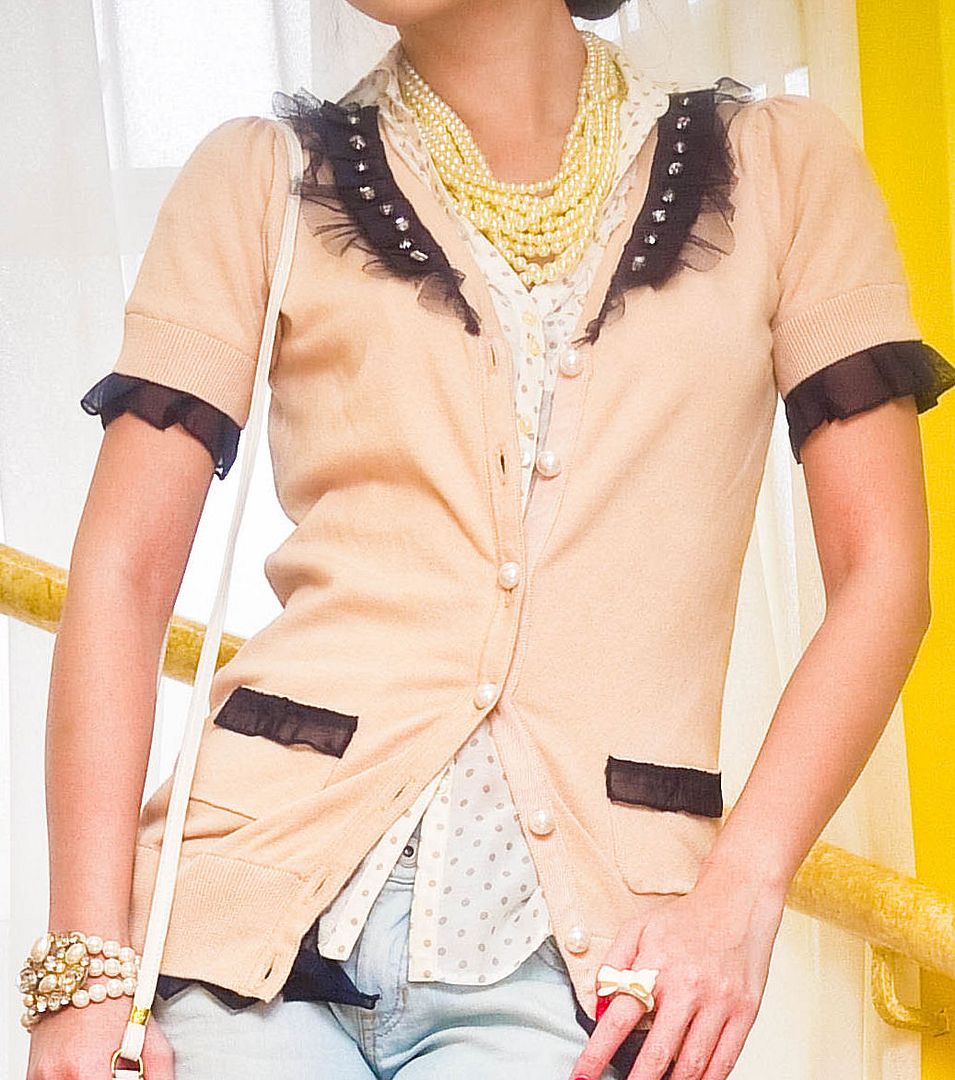 I wore it with shorts as it was going to be a very busy day for me. To make it a bit more interesting, I paired it with a beige and white semi-sheer polka-dotted blouse I got from Zara way back in '06. Layered on the pearls since it was just so perfect with the pearl buttons of the blazer and then added a cute peach hair accessory to soften up the look more. I then wore a very comfy pair of suede crisscross shoes from Renegade Folk (these are flats for me, since it was only about 2-3" high) and added a pair of brown cute socks with peach flowers from Marks and Spencers, which for me have the most comfy and wearable socks ever! Broke the beige and peach monotony with faded denim shorts and a tiny white Gucci purse.

The funny thing about this outfit is that I wore it to thrift. I went to the vintage capital secret of Makati, Evangelista in Bangkal Street to check out cheap and chic antique thrills. And I found so much. There were cute teacups, tables, crystal and porcelain vases and lamps along the strip that I was beyond thrilled. I was, as a matter of fact, so overwhelmed I forgot to take photos, save for these 3 shots.


(Treasure trove: the only 3 things I took time to take photos of before I got to busy searching for buried treasure)

After that I proceeded to do work for my brand. One tidbit about me is that I am quite OCPD thus the very annoying craving and need for severe perfection and immediate task completion.. i can't seem to move on. I cannot sleep on a half baked job which explains why I have not been sleeping the past few days! The reason for that is my excitement to finish and complete designing the interiors of our NEW store. Yes, finally, we will be having one! I seriously had such a hard time keeping it on the downlow while it was in the works but now that its 90% done, I can officially shout it out to the world. Check out
a few shots below...more to come in my next post, I promise!


I was in charge of doing the decor of the place and basically built this masterpiece from scratch.. the place is a total transformation from how it looked like pre-Glitterati invasion. From the very start, my business partner/ BFF and I had a clear concept of how we wanted it to be. From that, I basically had to execute the concept we came up with and I am quite pleased with how amazing it turned out. After like a million trips to hardware, furniture and home stores, I accomplished what we set out to do and perhaps went way beyond even. This was a complete labor of love and we put our heart and soul in this project! Our own store.... still unbelievable, even to me!