Jan 29, 2012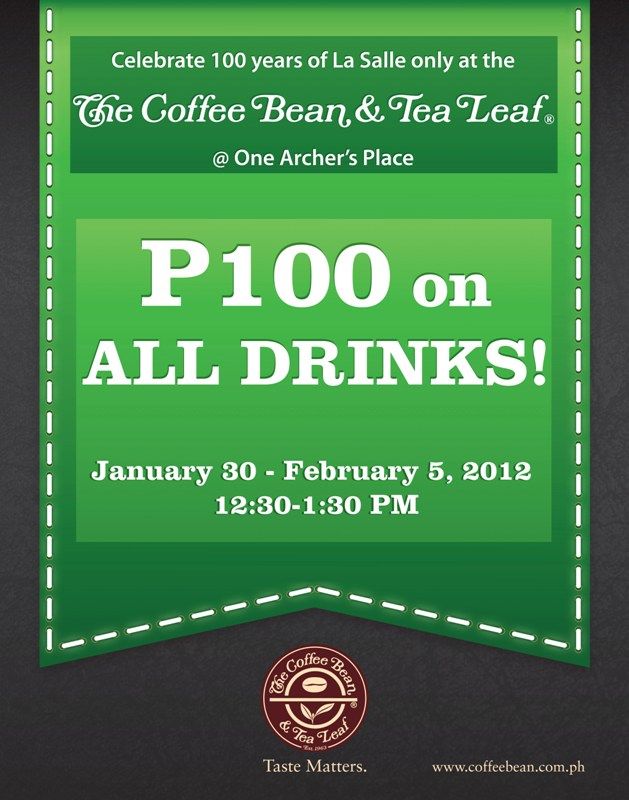 The Coffee Bean & Tea Leaf® comes to One Archer's Place


Taft Avenue just got more exciting as the famed street welcomes the latest addition to its line of dynamic dining and lifestyle establishments —The Coffee Bean & Tea Leaf®
Set to open in One Archer's Place on Fidel Reyes St. near De La Salle University (DLSU), the new The Coffee Bean & Tea Leaf® shop will be ready to open its doors to its first customers starting January 30—serving everyone with their full selection of internationally-acclaimed signature blends and gourmet treats and dishes.
"Manila is a good market for us," shares Walden Chu, President of The Coffee Bean & Tea Leaf®. "A place that's right in the center of a burgeoning coffee culture in the country, this new branch will not only compliment the busy lifestyle of people in the area, it will also make it easier for more to enjoy the specialty drinks that our brand is known for."

The One Archer's Place store will be located near prominent establishments around DLSU and will cater mostly to students and young professionals working and living in the vicinity. In addition, it will serve as a haven for both cult-like followers of the brands as well as coffee and tea aficionados of all sorts.

In line with its debut, The Coffee Bean & Tea Leaf® branch in One Archer's Place will be holding a special promotion that will coincide with DLSU's 100th year celebration. During the promo period that will run from its opening day till February 05, 2012, customers can come to the store from 12:30 to 1:30 in the afternoon and purchase any of their favorite drinks for only Php 100.
Quiet Nights Out.
(Top: Topshop | Headband: DIY | Skirt: Vintage | Belt: Glitterati | Shoes: SO! FAB | Bag: Marc Jacobs)



I have a confession: I haven't been going out much (thus the lack of blog posts!) It's been happening for the past 2 weeks but I reckon I find myself enjoying my time at the gym and at home or working at the store more fulfilling. People have noticed the very evident paradigm shift but it seems that I'm growing up and outgrowing the boozed up rubbing elbows at a crowded bar stage. Call it domestication, at its finest, but I am definitely enjoying this new so-called "me", sipping on my juju and wheatgrass rather than empty calories in an alcoholic cocktail. Even my household staff have taken notice on my very tame new side.







On this particular Friday night, however, I decided to go out of my comfort zone to meet up with my friend at a nearby wine and tapas bar. It was an early night but definitely lots of fun! It was a refreshing change, but trust me, I am in no position to trade in my workout gear for clubbing wear just yet....

My Accessories...






Check out my oh so amazing shoes from oh so fabulous shoe brand,
SO!FAB
which is one of my favorite latest new additions to my heel less collection! PS: It has a stunning lace strap detail which is just absolutely making me obsess on the pair particularly!
xx, JL