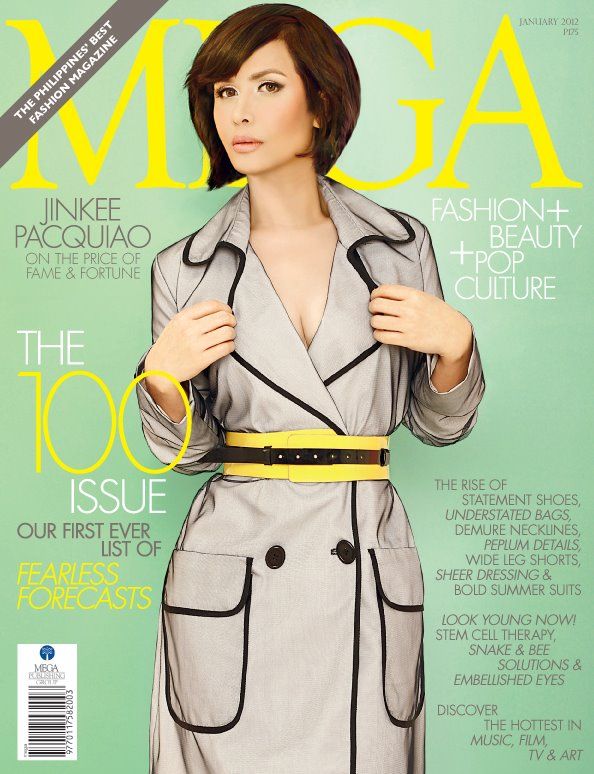 Jinkee Pacquiao Rings in 2012 for MEGA Magazine
This January, it's MEGA'S first ever "100" Issue, counting down everything on fashion, beauty and pop culture!
Manila, Philippines – January 2012 – January is the perfect time for new beginnings. MEGA, the Philippines best fashion magazine, launches the 100 Issue with pound for pound boxing wife Jinkee Pacquiao on the cover.
Jinkee Pacquaio's every move has always been closely watched by the public eye. She's not just the boxing champion's wife; she has become one of the most sought-after women in the country, lending her face and name to big brands and having businesses of her own to boot. The lady has done a complete turnaround from her humble days in Sarangani. MEGA relates the life story of a woman who has been put through different tests, only to emerge as a confident fighter. Now in the limelight, she shares that fame and fortune do come with their price, and despite it all, she still enjoys the simple things that she grew up with like tuyo. Read the story on how she's had to survive under the constant public scrutiny.
Jinkee Pacquiao's MEGA cover has been favorably received, becoming a top trending topic on social networking sites minutes after the release of the cover photo. The behind the scenes footage of Jinkee Pacquiao's cover shoot is available at www.MegaStyle.ph.

Since New Year is the perfect time for lists. MEGA's first 100 Issue gives everyone a roundup of everything you need to be fashion forward this 2012. From the top fashion trends to keep you ahead of the pack, the top local and international brands to conquer Manila, and the luxury bags sure to be coveted by all who dare to redefine luxury. MEGA also gives you a forecast on the television, film, music and current affairs items that will surely make headlines this year.
And since this issue is all about the future, MEGA redefines the stars of this generation by presenting smart, ambitious and headstrong women in our 10 Women to Watch list for 2012.
Don't fear the end of things as new beginnings are always in store. 2012 will again be another banner year for MEGA magazine as it celebrates 20 years of being the Philippine's best fashion magazine! So start the year right and grab your January issue now!
MEGA magazine is a prestige publication of MEGA Publishing Group.
For the latest updates, visit www.MegaStyle.ph. Like MEGA on Facebook at <www.facebook.com/megamagazine> and follow MEGA on Twitter at <www.twitter.com/mega_magazine>.