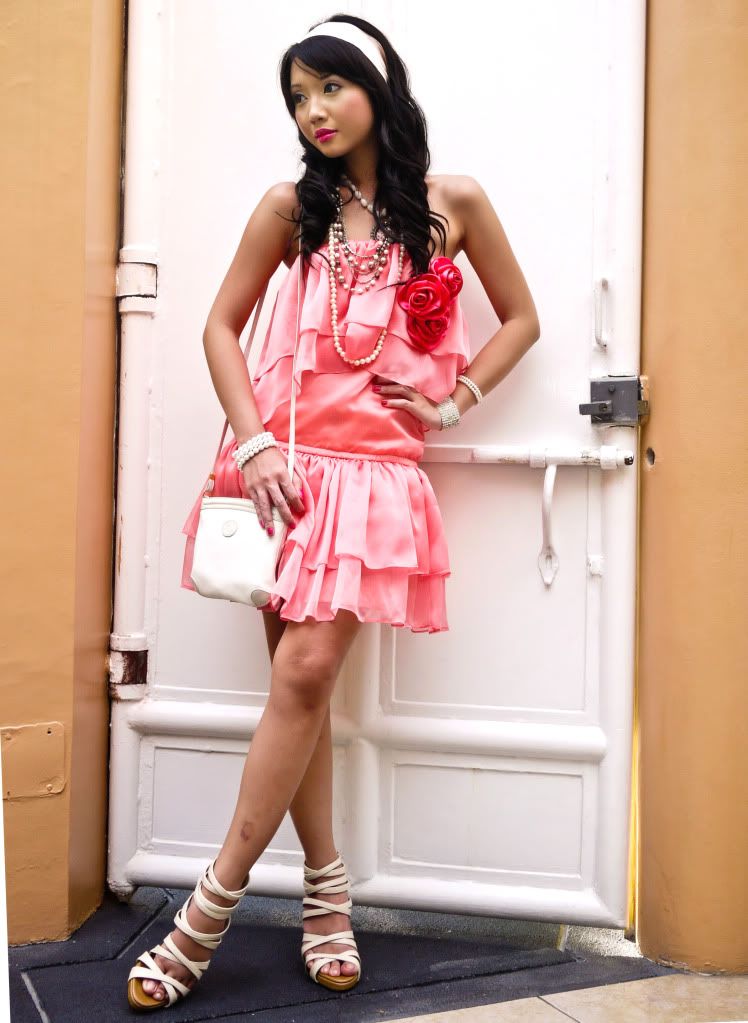 (Spot the bruise- my major boo-boo sucks!)
Before anything else, excuse the major bruise in my leg. My ultimate clumsiness (this time I hit a wooden frame/table hardcore) has resulted to a definite eyesore I have been living with for the past 2 weeks. It is indeed very unsightly but I'm human and I get blood clots sometimes. And all I can do is live with it and work with it.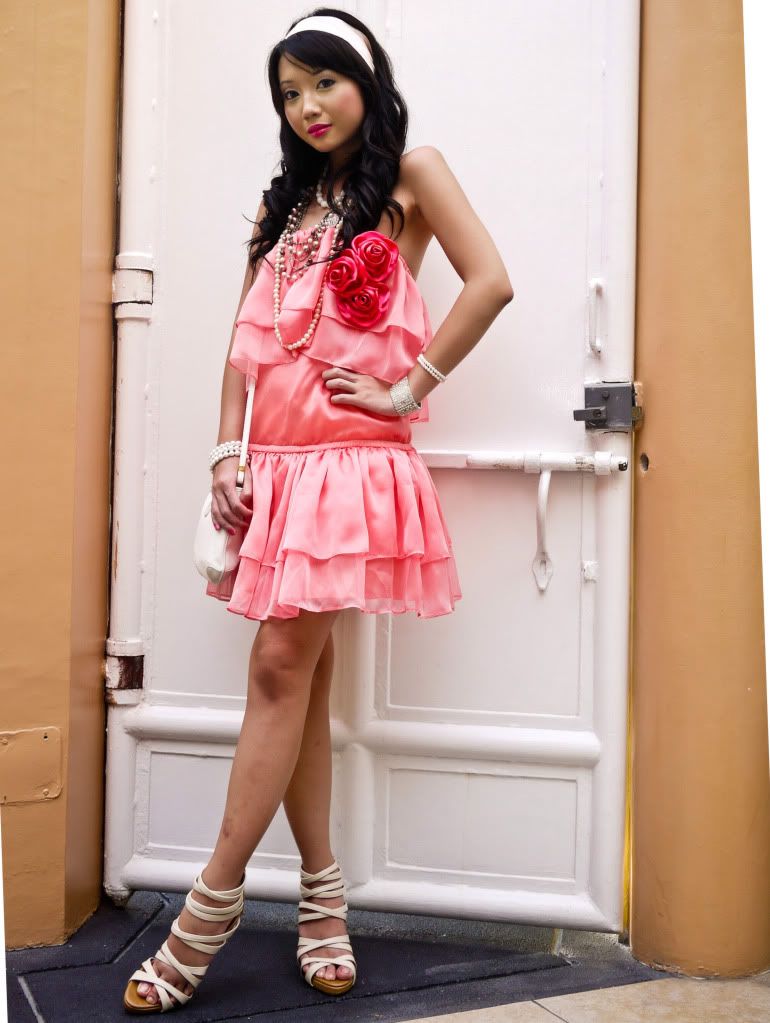 Back to pastels yet again! I wore this on a sunny Wednesday aka. my Wednesdate with my daddy, boyfriend and brother aka. JL as one of the boys day! I was feeling quite bright and shiny thus this very frou frou floral look. I love pink, I always have…and I am seriously in major easy breezy delicate pastels state of mind now. I find it weird I've been less into studs and more into floral and girly girly stuff… is this a style evolution brewing? Only time can tell….But I think I will always still go back to all things grommeted.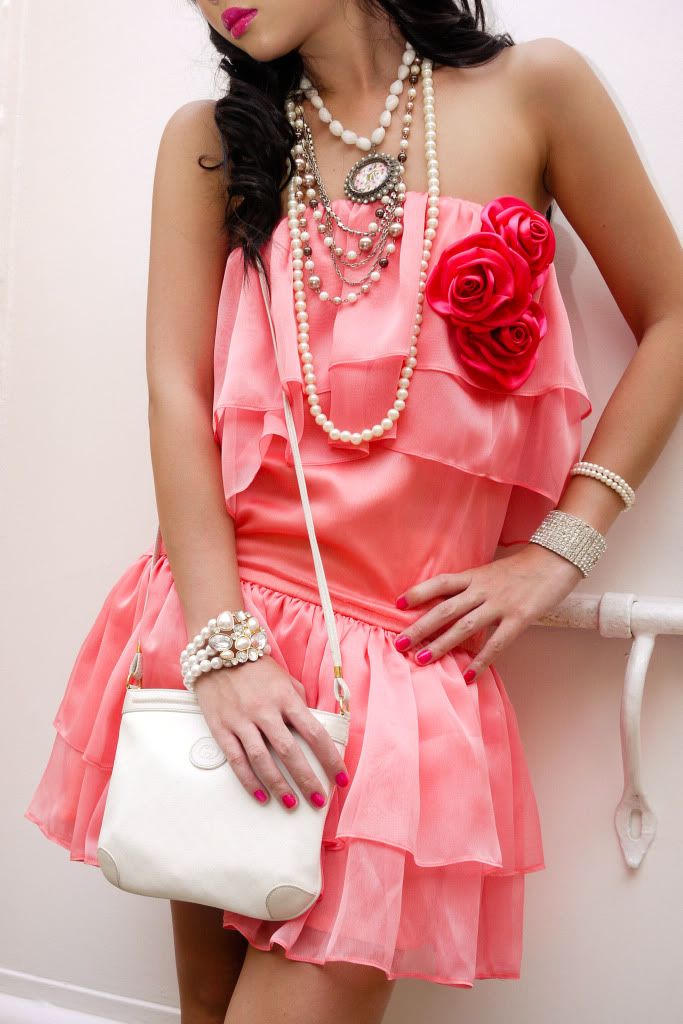 (Pearl necklaces are from Forever 21, HK trips and Girl Shoppe, Vintage white Gucci purse from Mom, Pink Glitterati Dress, Shoes by Sinta)

Anyway, enough of the blabbing. I decided today that I wanted to go for a more feminine and softer look and I chose florals and pearls to work to my best advantage to attain said look I was going for. I wore this chiffon ruffled tiered dress which has a lovely ruffle detail on the upper part and hem. It has a strap but for this day, I wore it as a tube instead to show the wonderful rose detail on the side. The fuschia roses were chosen to provide a color contrast to the peach coral tone of the chiffon. Layered on my never failing pearl necklaces including a lovely marble one with a hand painted flower detail. My mom got it ages back in a quiant antique shop and then gave it to me eventually when I went to my life on the prairie stage which I am reviving now. Wore white strappy shoes from Sinta Shoes (by Aira, the same creator of Cintura belts) and a vintage Gucci leather strap purse. Added the final touch which is a satin head band which made me feel very girly girl. I love how one piece can influence you in that way. In my case, the headband in my curly hair did it for me!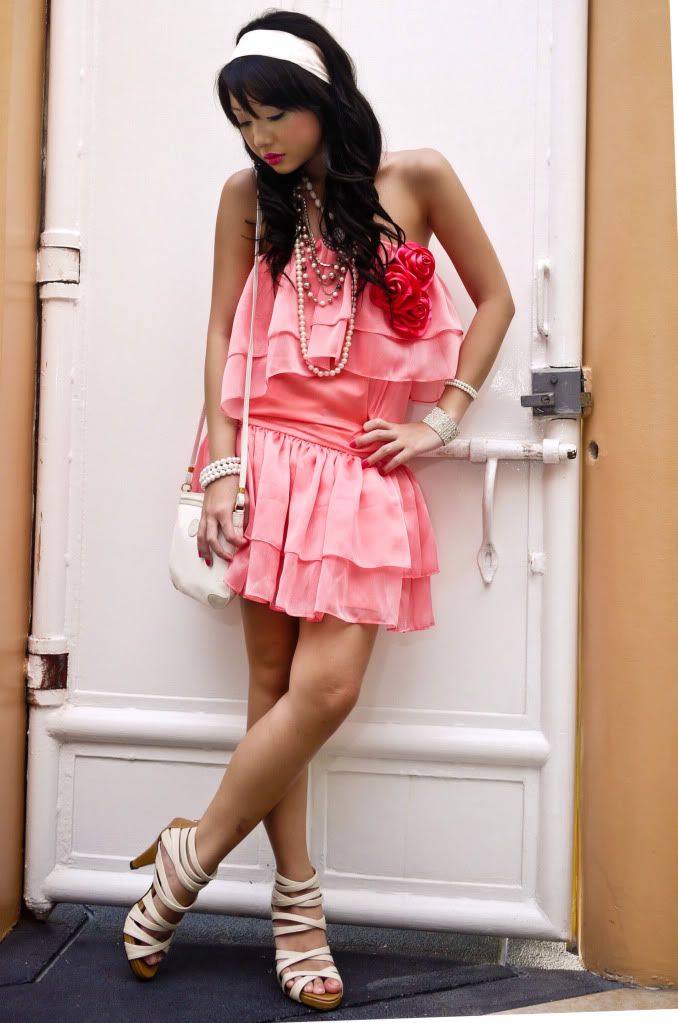 Had the usual Rockwell date then headed to my boyfriend's brother's birthday bash and to watch the World Cup games at Attica. Hope it worked.