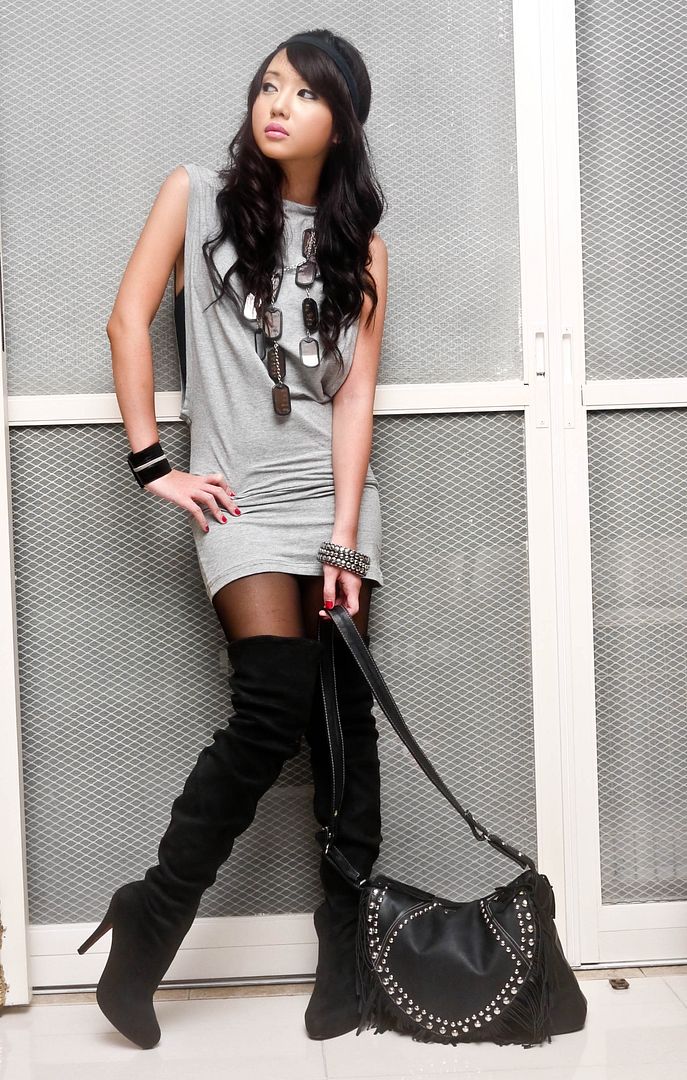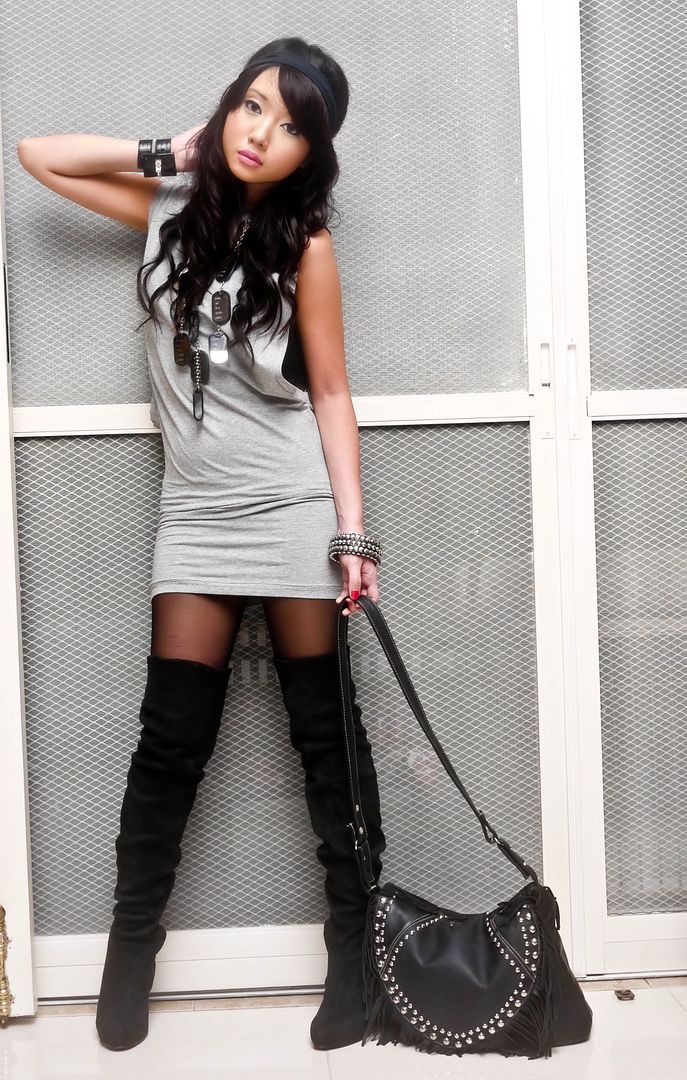 Rock Steady.
(Gray Drop Sleeve Tunic, Black Tanktop from Esprit, Purse from
Chick Flick Boutique
, Dog Tag Necklace from
CUTETURE
, Leather Cuff from Rockwell Bazaar, Studded Cuff from Aldo, DIY Garter Black Headband, Thigh High Suede Boots)
Boots are back!

I know I've been whining about the rainy season in the past entries but I found one major good thing about it--- it's time to whip out those boots we all put away during the summer months and rock 'em! On this particular Sunday, the rain was severe and I decided it was perfect weather to wear my favorite thigh highs. I love thigh highs since they are very functional and ultra stylish boots...providing the most protection and coverage from all the elements compared to other boot lengths and of course they are totally stylish and easy to wear with almost anything sans the
Pretty Woman
effect kudos to the many designers who have revived them to be chic and wearable.
Since the length is quite tricky, I decided to wear it with a drop sleeved tank top tunic which I put on and wore as a dress since it was just the right length to highlight the boots. I layered a pair of sheer black stockings under to cover my thigh so as not to be revealing and then kept the look simple and basic. I stuck to gray and black this time so as not to be too loud with my color palette. Added my favorite military dog tag drop necklace, fringe grommet bag and studded cuffs to maintain the rocker vibe of the look and was ready to head out the door.
High Impact.
(Keep the Rockstar vibe consistent with studs and fringes. An accent necklace like this dog tag one can go a long way in adding much needed oomph to an otherwise simple look.)
The thing I loved the most about this outfit was how easy it was to wear and move in despite the less favorable conditions of thunder and rain. All it takes really are a perfect pair of boots and lots of attitude to rock 'em! Whip out your own pair and ride the storm!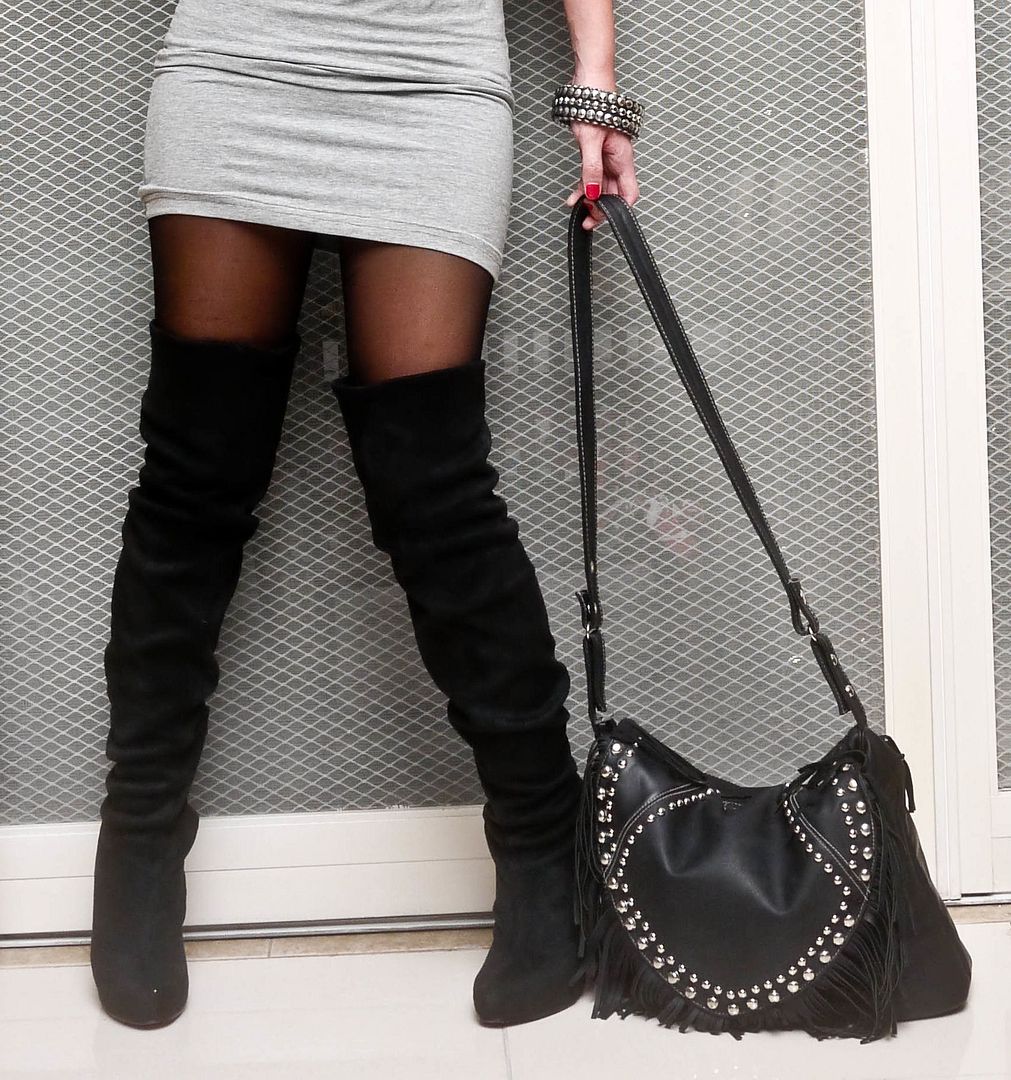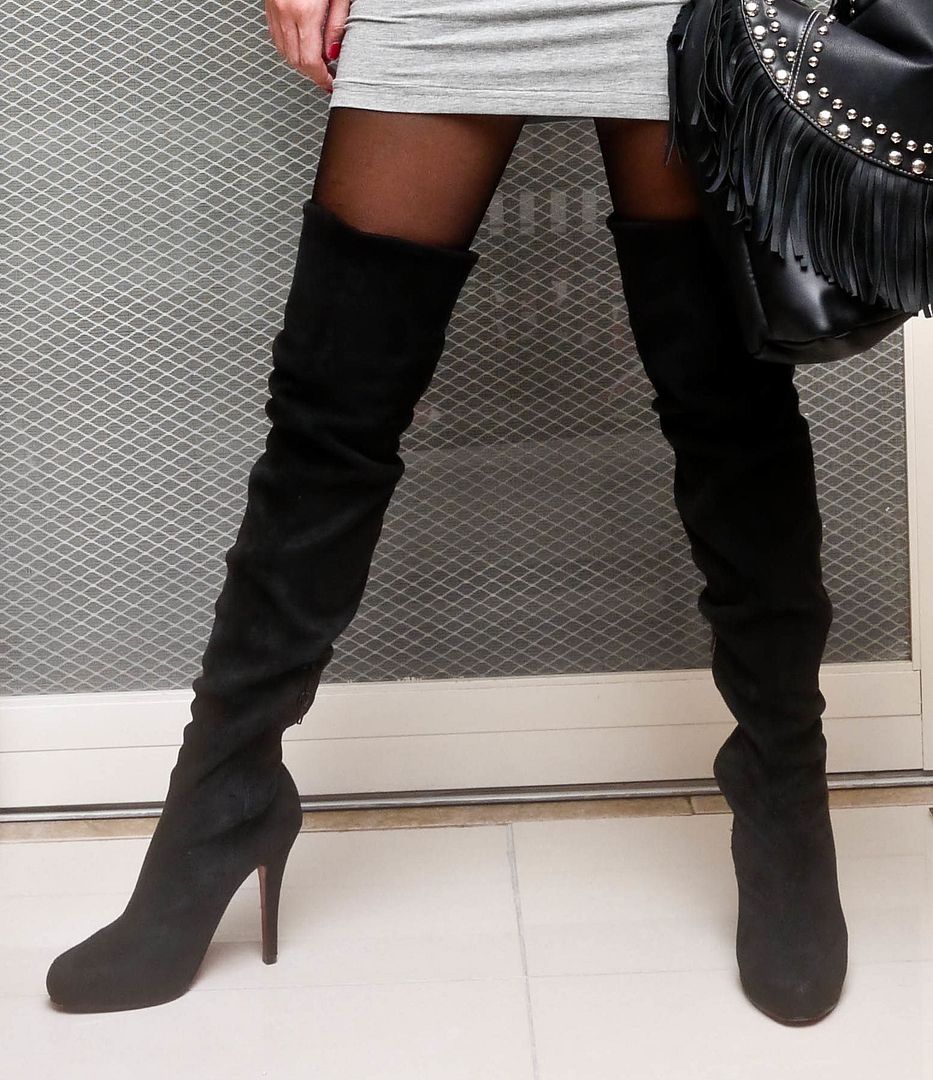 It's a Boot-y Call!
(Rainy weather is perfect time to resurrect those boots for appropriate Cold Weather Dressing. Walk the walk and remember to WORK IT!)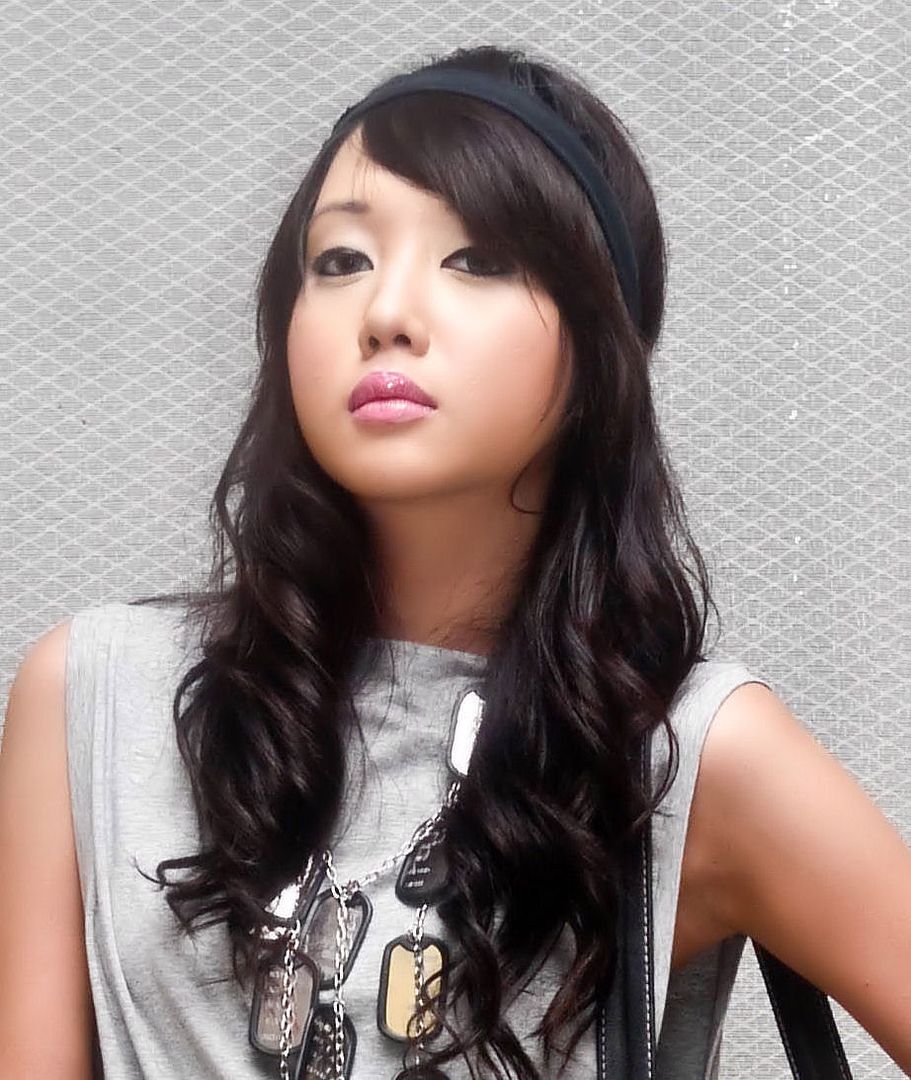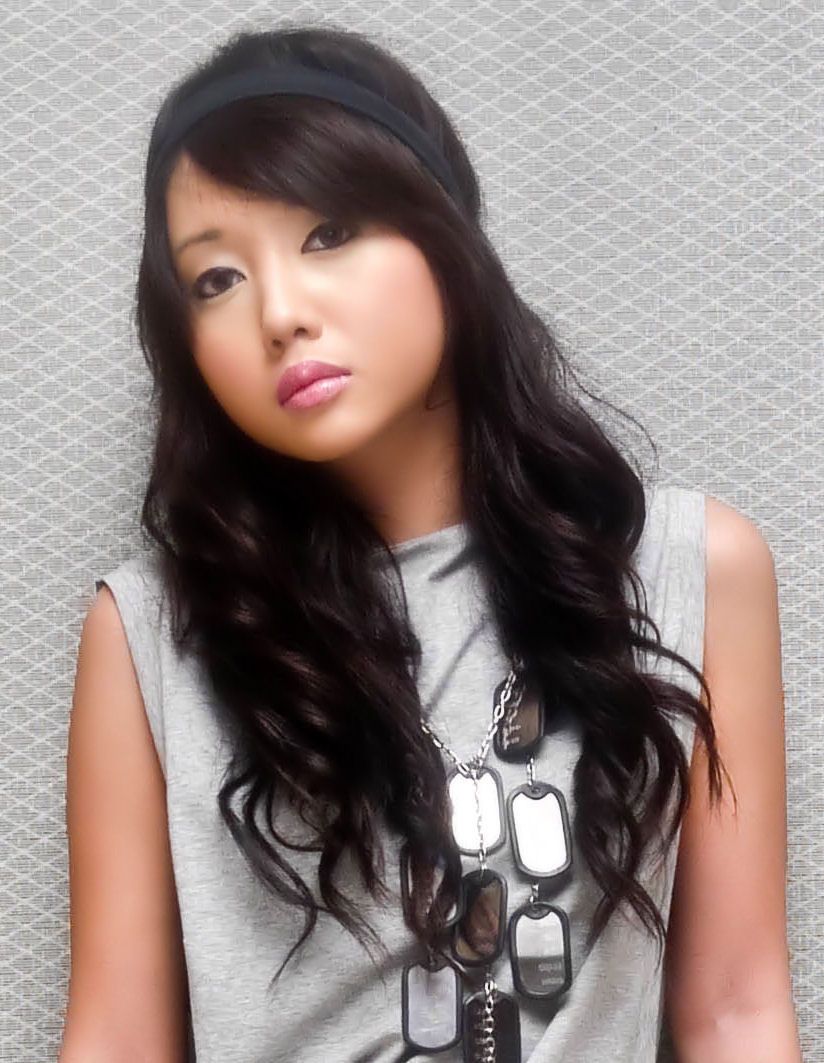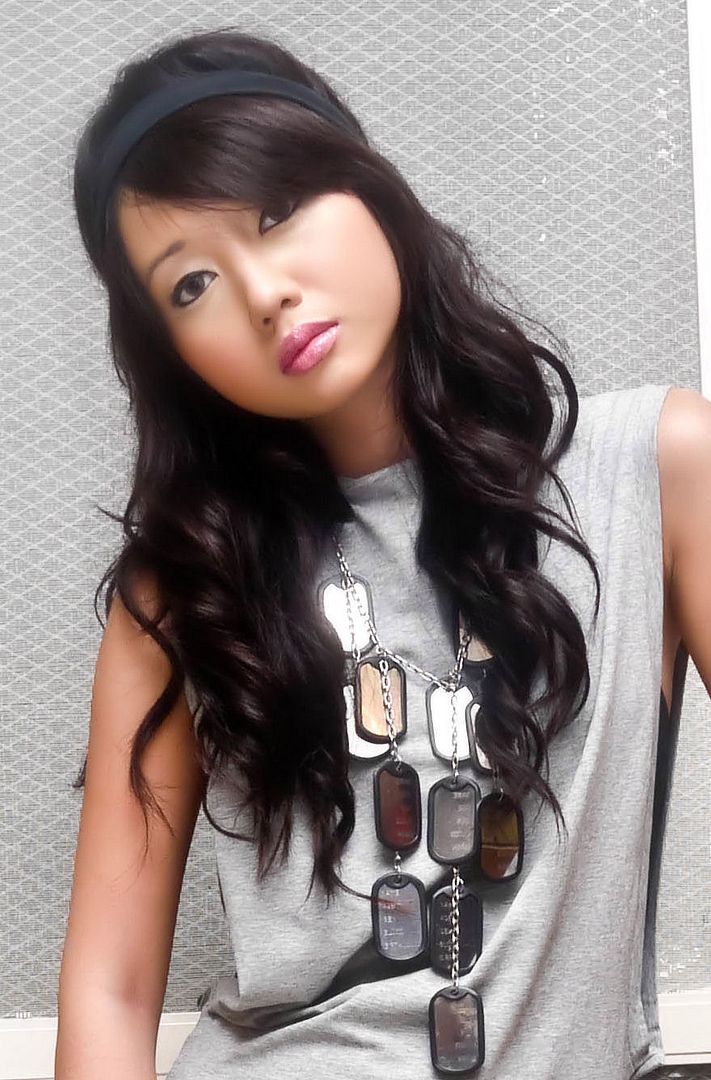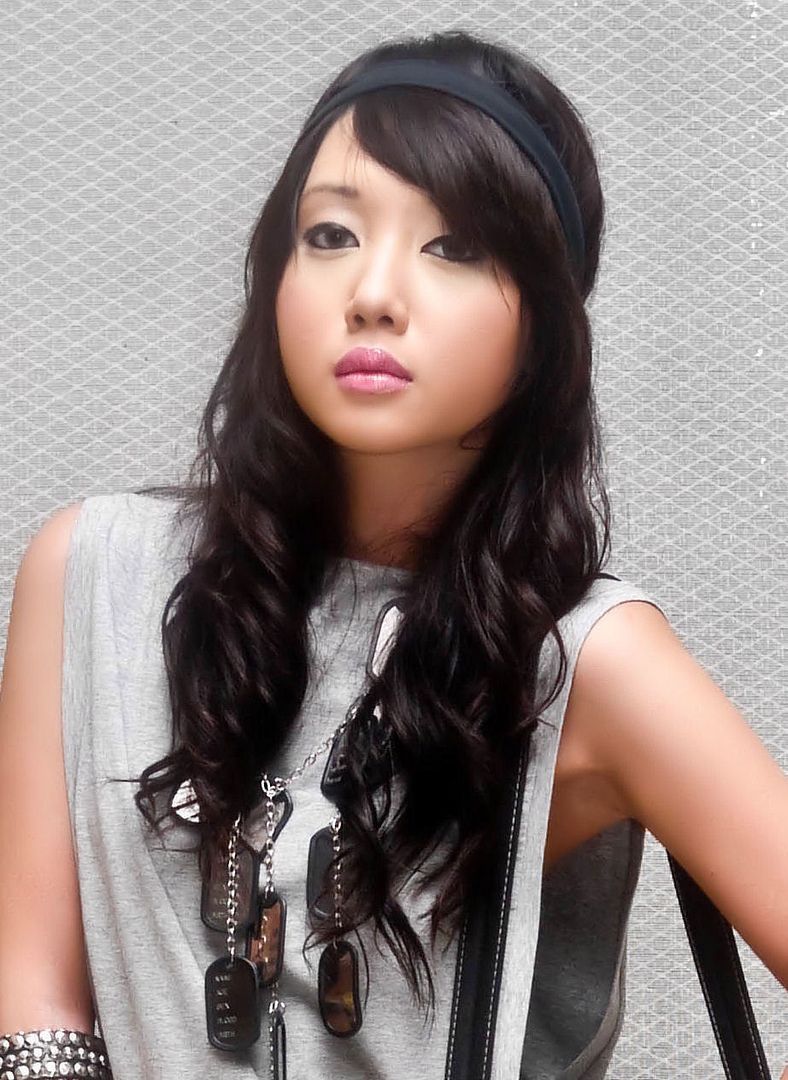 BEST FACE FORWARD.


(Sometimes all it takes is a dab of concealer, eyeliner, mascara and lipstick. Retouch with matter powder as needed!
For this look, I used VOV Concealer in Shade #3, MAC Liquidlast Liquid Eyeliner, Diorshow Mascara and NARS Lipstick in Schiap)