FAR EAST MOVEMENT LIVE IN MNL
.
This 21st of March 2011, Far East Movement is bringing the party to Manila! The first American-Asian group to land on mainstream pop charts, FM's Kev Nish, Prohgress, J-Splif, and DJ Virman will be rockin' their stylish shades, skinny ties, fresh kicks, and shiny blazers at Republiq Club in a live performance featuring hits like "Like a G6", "Girls on the Dancefloor", "Rocketeer", and "Don't Look Now". This is one big party you wouldn't want to miss out on! Get your tables and tickets by calling up this number 0917 5508888 or log on to
www.republiqclub.com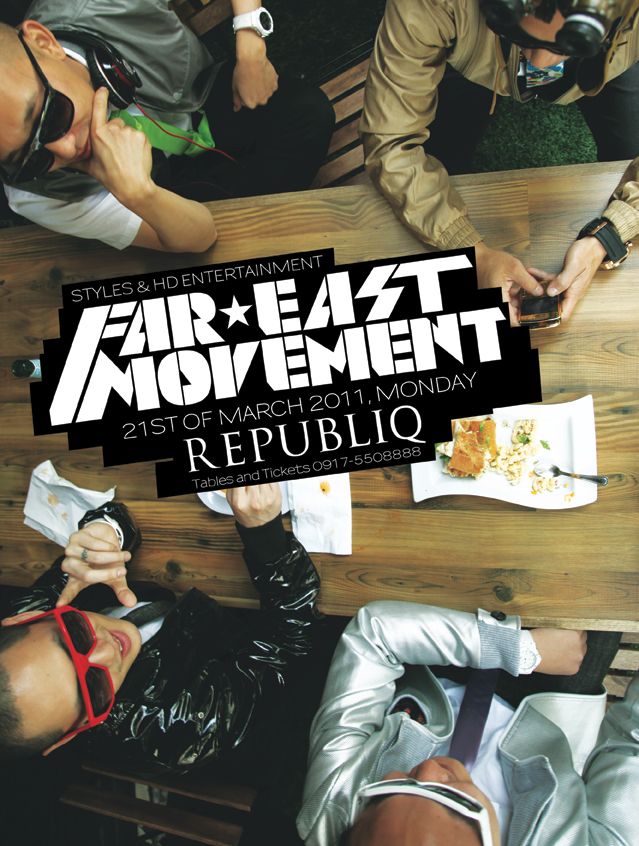 For more details, refer to the flier attached!
See you there!
xx
_______________________________________________
A little more about the band: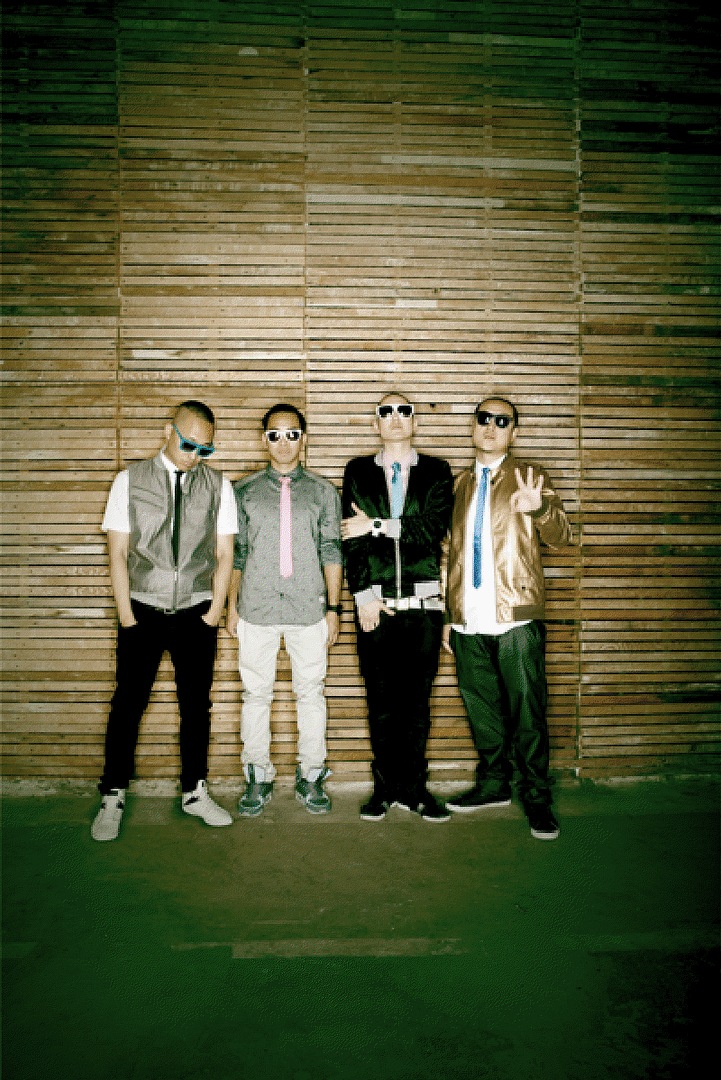 Far East Movement (also known as FM) has bridged the gap between underground party records and mainstream hip-hop and pop. They blend elements of hip-hop, electro and dance to create an original pop sound and lifestyle they refer to as 'Free Wired'.
They promote this 'Free Wired' lifestyle by 'geekin out' "all day, everyday" from music to fashion to technology. They translate the 'Free Wired' movement to fans through everyday blogs, videos, news posts and special FM Satellite webisodes onwww.FarEastMovement.com and stay in touch with weekly radio shows and chats ith fans at www.CherrytreeRecords.com. 'Free Wired' is about being able to 'geek out' no matter who or where you are, "25 hours a day, 8 days a week."
Kev Nish, Prohgress, J-Splif, and DJ Virman always rocking stylish shades, skinny ties, shiny blazers and fresh kicks took the Los Angeles club scene global with numerous world tours, song placements on television and film and a #1 hit song (Girls On The dance Floor) on Los Angeles radio all before they dropped their debut album, Free Wired, October 12th on Cherrytree/Interscope Records. The subsequent lead single "Like A G6" is a triple platinum selling song that exploded on radio and sales charts hitting #1 on Billboard's Hot 100 and the Digital Song chart as well as multiple appearances at the #1 spot on iTunes top songs list.
Cherrytree Records head, Martin Kierzenbaum, was inspired with the direction FM was taking with their careers. "Martin told us, 'You guys have a lifestyle and party that we want to be invited to, we not only like your songs, but love the entire sound and movement,'" Kev Nish said of Kierzenbaum, who oversees the careers of Cherrytree Records artists Lady Gaga, Keane,La Roux and Tokio Hotel.
Martin was moved by FM so much that he passed their music on to mega-star Lady Gaga's camp that led to an invitation out on her overseas Monster Ball tour dates in April 2010. FM call it, "a 'Free Wired' moment and incredible learning experience…she puts 200 percent into 2-hour shows, back to back nights, every night, it's inspirational."
"We've played at every club in southern Cali and threw parties, 'geekin out' at friends lofts and rooftops in downtown LA until the sun came up." "Our routine and clothes that we wear allowed us to party all night, then head straight to work or an important business meeting in the morning, we always stay business fresh, plus we keep the shades on to hide the lack of sleep," jokes Prohgress.
It was at those all-night parties that the group honed their sound and performance skills. "We felt like when we started messing more with hard electro synths, 4 to the floor drums and upbeat Daft Punk-type production it just seemed to connect better with the type of performance we do," Prohgress said. "And once we had 'Girls On The Dance Floor' that was just like the bazooka ammunition that we needed."
"Girls On The Dance Floor" became an undeniable, high-energy track that prompted women from all over to record videos of themselves dancing to the song and upload the clips online. The song exploded the latter part of 2009 in nightclubs and hit #1 on playlists in L.A. The requests and heavy rotation earned Far East Movement a spot on a prestigious L.A. Powerhouse concert headlined by Jay-Z.
The follow up record "Like A G6" received an even more rabid reaction from listeners. "That one had over a million hits on YouTube before it even had one play on the radio, we threw it online before we went on a 3 month tour and when we got back and checked the views, we knew we had a hit," Kev Nish said about the song they put together in two hours with Los Angeles producers The Cataracs.
Free Wired, the album, captures the hypnotic, electronic energy of earlier hits "Girls On The Dance Floor" and "Like A G6", but also encompasses a slower-paced, '80s dance, alternative pop and tribal sound.
Snoop Dogg guests on the bombastic "If I Was You" where you don't hear a typical Snoop, but hear him singing and integrating himself into the FM 'Free Wired' sound. There's also the mid-tempo dance floor track, for all the dance crews, called "So What" which samples a group that had a huge influence, The Beastie Boys' smash "So What'cha Want".
Lil' Jon gets amped on the club anthem "Go Ape." While recording "Go Ape" with their resident producers and co-executive producers on the album, the Grammy nominated Stereotypes, Lil' Jon was suggested for the hook due to its crunk influence. Within moments, the Stereotypes [due to a previous relationship with the producer] had the "Get Low" rapper and producer on iChat. Lil' Jon expressed immediate interest. "'SEND IT OVER!'" Kev Nish recalled of Lil' Jon's reply. "Next thing you know, a couple days later, Lil' Jon is on it."
Free Wired slows the tempo up on the album with the upcoming single 'Rocketeer'. This radio-ready massive pop ballad features One Republic front man Ryan Tedder. "Our second single is going to surprise a lot of Far East Movement fans in a great way, " states J-Splif. "It's definitely outside the box for us, but we love to push our musical boundaries and our influenced by all the music we listen to."
There's also the fast tempo, pulsating, dance love song called "Don't Look Now" also produced by the Stereotypes. "The Far East Movement reps the diverse music fan that hits up 3 clubs, all playing different kinds of music in 1 night, with an original style, low ridin' around LA in a fresh set of rims and a fresher pair of kicks, then hits the after-after party in the early a.m. and finally stumbles home to go on the computer and live all that online" the group says.
Far East Movement grew up together in downtown Los Angeles. They were influenced by the thriving downtown LA scene and a wide array of music from fellow West Coast classics like the Pharcyde and Dr Dre, to the dance music of DJ Tiesto and Daft Punk, to LA rockers like Guns N Roses, Linkin Park and Blink 182. "Our musical inspiration is as large as what we can hold on our iPods and we want our music to represent the same."
"A big part of our movement is how we stay connected to the fans ourselves," states J-Splif. "They've demanded our songs on radio and at the clubs, so we're always are listening and try to give them what they want. We used to go to a club and watch all night just to see how the crowd would react to certain songs the DJ played and soak it in." "It's important that we translate to everyone what we're about on this album," Kev Nish added. "The idea is for people to feel free to 'geek out' however they feel comfortable and stay wired with us whether partying at the club or home online. Live Free and Stay Wired is where is stems."
An early influence came when the group saw Kanye West live and the kind of performance he delivered. "I remember we saw a Kanye show," Prohgress said. "He threw a towel into the audience and people were fighting for it. We wanted to give that type of energy." "It's always been about that energy and that lifestyle at our shows."
You might already be familiar with Far East Movement's music unknowingly as they have received placements that are as impressive as artists who have already reached superstar status. "Girls On The Dance Floor" was featured in a major scene in the film 'Get Him To The Greek', 'MTV's America's Best Dance Crew' season 4 finale, CBS' 'CSI Miami', and 'FOX's So You Think You Can Dance.'
Their music has also been heard on television hit shows like 'Entourage', 'Gossip Girl', ABC Family's 'Lincoln Heights', 2009 Miss America pageant and in the blockbuster film and video game for "Fast and Furious: Tokyo Drift." They were also featured performers at both the Cannes Film Festival and Sundance Film Festival in 2010. Their tours have taken them to Asia, South America, UK, Korea, Hong Kong, Macau, Singapore, Brazil, Netherlands and all over the US.
Far East Movement are anxious to take advantage of all the opportunities their fast-rising career will afford them. Considering their independent, go-getter mindset, talent, and willingness to break out of the box, Far East Movement is indeed setting themselves up for the long run.
____________________________________________________________________



PS: Grab a copy of STATUS February 2011 with Olivia Munn on the cover....So FIERCE!