I've been wanting chiffon tie-up sandals since forever. I remember I had a pair or two before but it mysteriously disappeared which is why I was beyond ecstatic when Fendi reintroduced tulle sheer sandals in their Spring 2010 runway. I've been wanting the ones from Stella Luna but they ran out of my size almost instantly. Before long, chiffon sandals were all the rage and I was especially quite anxious Topshop came out with their own retail version. However, by the time they got here in Manila, I was on my self imposed shoe ban since I have a surplus of unworn shoes in my closet. Not wanting to spend anymore on shoes I have no more space for, I decided to let go…but that was quite impossible especially after seeing my two very good friends and fashion bloggers Lissa and Patricia rock their own Wisterias.
Luckily, my parents stepped in and decided to treat me to a shoe shopping trip this week which was a blessing since I was so decided that I was not going to shell out any more cash on shoes, for the next 2-3 months anyway. I was quite torn between the pale pink one and the black and it took me quite a while (30 minutes) to decided until my family gave up on me and decided to get me the two pairs…. And it was like Christmas morning seriously… I got to satisfy my inner Imelda for a day at least! And that's the story behind these shoes!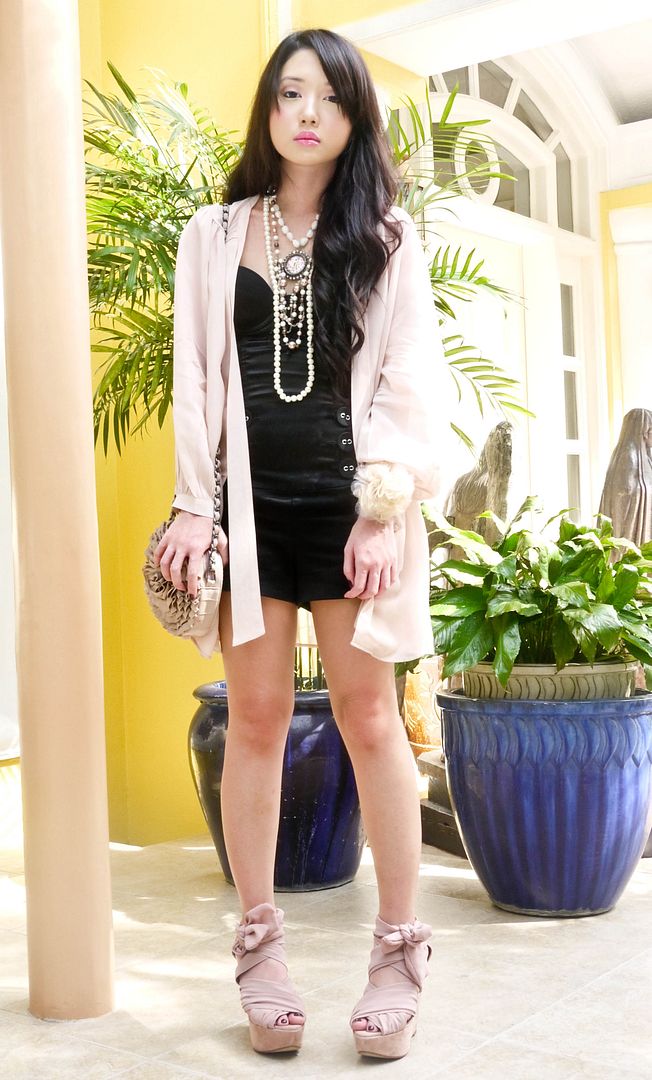 I decided to wear the pink ones on a sunny Thursday since it just matched my chiffon Topshop robe to the tee. I've been thinking of how to wear this coat for the longest time since I got it almost 70% off in the July Topshop sale. I am happy I saved it! I wore it in a boudoir inspired way… since it does look like a night coat, I paired it with a black satin bustier (to keep the innerwear as outerwear feel going) tucked in highwaist shorts from H&M. I kept the look pretty basic and simple since the shoes were the IT FACTOR of the whole look. The pair was so comfy and I felt super tall in it! Thank God I got sponsored to buy it! Haha!
Till the next post, loves!