Being the military trend enthusiast that I am, I decided to revert to it and go soldier chic yet again for a lazy and stress-free Sunday. Taking my cue from Balmain's S/S 2010 , Burberry and Marc Jacob's F/W 2010 girl scout/ army inspired looks, I decided to wear the green with studs and chains. I love glamming up the military look which is more rugged and earthy. I guess I just seriously love the contrast of studs, chains and gems with a camouflage army green ensemble. Thus the look.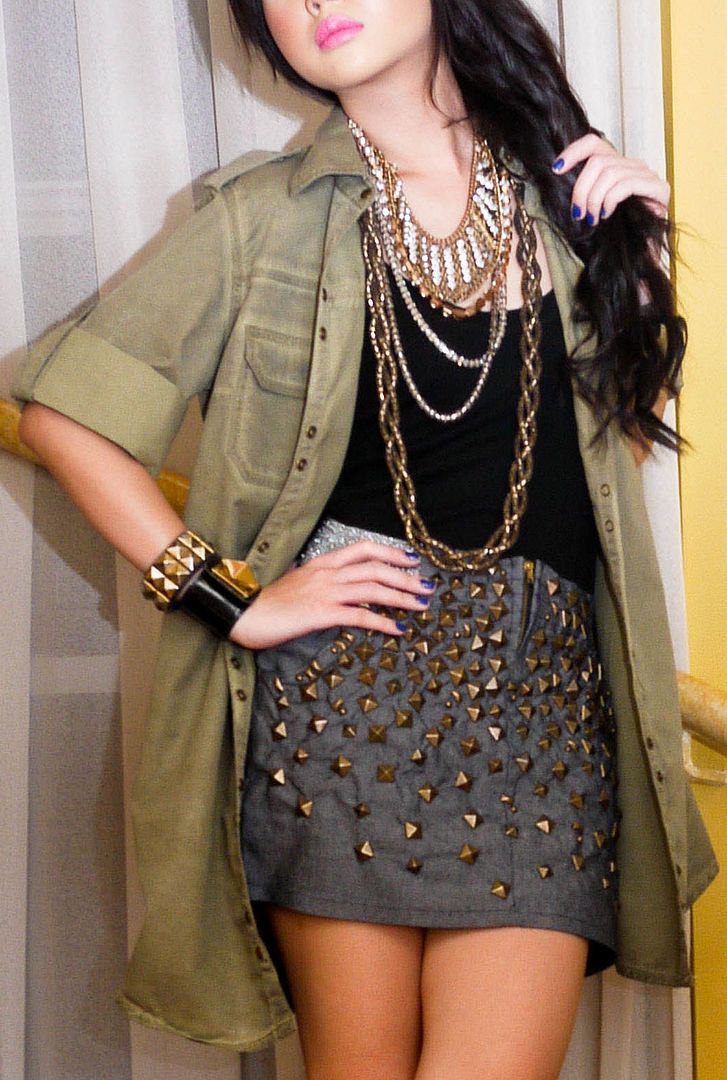 More on the trend: (

SOURCE

)

Cameo print and vintage army fatigues have come in and out of fashion over the past decades and although it would seem they had been thoroughly exhausted, they are back in full force this season. However, this time around the trend is found in more subdued and tasteful pieces that are simple, clean-cut, utilitarian in style. At the forefront of this trend is the jacket, which is cropping up in all shades of army green and all sorts of army-esque cuts. There are anorak style, relaxed cotton jackets or more fitted, four-pocketed safari inspired military styles. The trend is also present in skirts, cargo-style cropped pants (comfortable, but a little too much like a 5th grade boy's shorts), army green t-shirts and nicer tops, and accessories and bags. While it's more than easy to find a full-out green ensemble, I suggest you try to steer clear of looking like Kermit The Frog and stick to one piece at a time. I think an army green jacket is the best investment for the season and it is also popping up in the fall runways shows, so it will definitely be a more lasting piece. If you want a little more than the jacket, throw in a few army inspired accessories, or forgo the army clothes all together and just stick to the trimmings.

A few runway inspirations....