A wise woman once said, "Houndstooth is the new polka dot."
I am all about polka dots, trust me. But when I am into a more classic and clean print, I go to the no fail print of Houndstooth, It is always fierce, fashion forward and fabulous! While polka dots have a quirky, whimsical feel… I consider houndstooth to have a more conservative and timeless take when it comes to prints and I am in love with the classic black and white combo that is very reminiscent of old school Christian Dior couture. This is why I knew that I just had to design a dress in the much loved print. Thus this mullet style body con dress which is topped with a sheer chiffon layer. This is one of my favorite new dresses for Glitterati since the plaid optical illusion print is contrasted by the sheer solid softness of the chiffon. More so, the chiffon overlay can be tied at the waist to a bow as an option when leg baring is more optimal.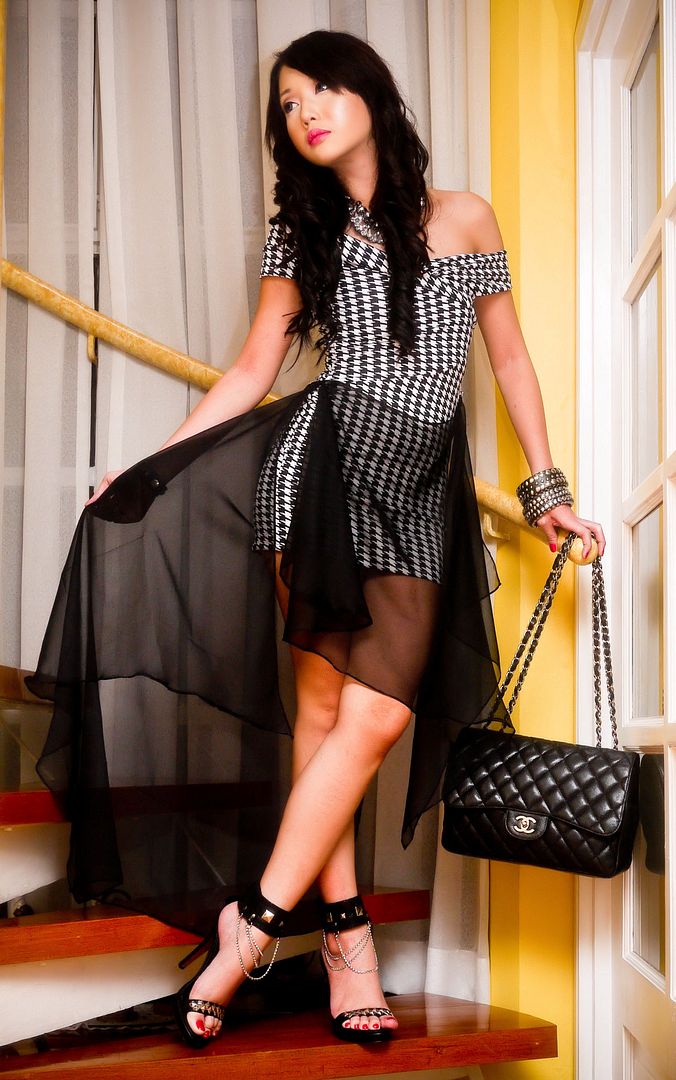 What is Houndstooth?

Houndstooth is a fabric whose black and white pattern resembles a star, or the tip of a dog's tooth; hence the name. The choice fabric of college prepsters and inhabitants of the English countryside, houndstooth is a favorite of conservatives and fashionistas alike. Having enjoyed brief popularity in the 1960's, it was only a matter of time before houndstooth made a comeback! The fabric is usually made of wool, which makes it a great choice for outerwear such as coats and jackets. A popular variation of the houndstooth pattern is glen plaid. But don't be alarmed! Rocking houndstooth this season will hardly put you in the same fashion category as Sherlock Holmes! The pattern has a fun, retro-chic appeal. This season, it is readily available in many forms, including accessories.

Suffice to say, I had a great time in the dress! The way the chiffon shimmied and swayed as I walked was exquisite and I felt totally at home with the idea that I was baring just enough skin since the chiffon has that peek-a-boo effect..providing just the right coverage and revealing in a more subtle manner. More so, the off-shoulder cut is very flattering especially when emphasizing one's shoulders. I wore this to a very fun night to celebrate Patricia's birthday at Amber where we had so much fun dancing to hip-hop!
BTW this dress will be part of our up and coming new line which we will be releasing at The Prive Fashion Series at Member's Only this September 1,2010. I know I am revealing a peek at our up coming collection but I just cannot resist not wearing this dress! Hope to see bloggers from back here in Manila there!