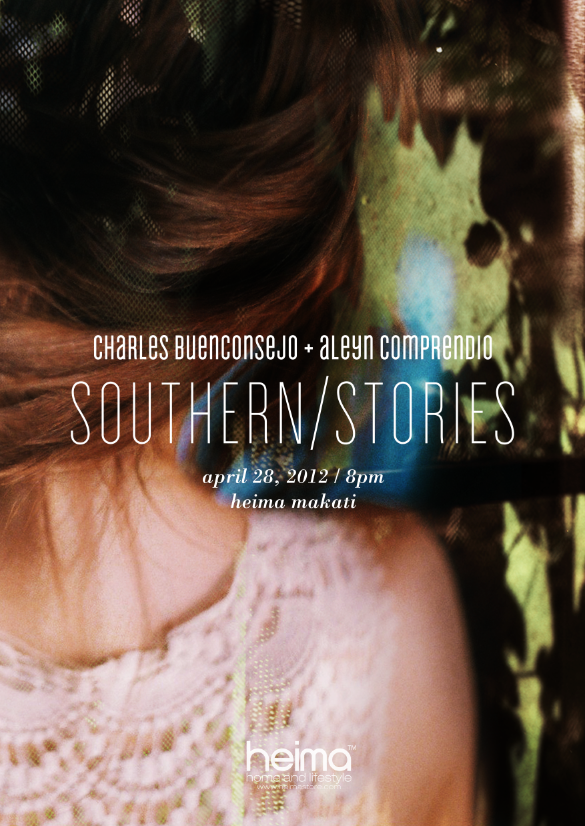 Southern Stories

In collaboration with Heima, Charles Buenconsejo and Aleyn Comprendio's two-man show entitled, "Sea Sun and Sky" and "We'd Seen Each Other In A Dream", is an exhibit of analogue and film photography. The photographs revolve around their childhood, nostalgia, nature, honesty, and stories from the south. "Southern Stories" is the combined title of the two exhibits, much like a book with two sides with varying points of view. This exhibit also defines some of the themes of the current summer season for Heima.
Aleyn Comprendio



Aleyn Comprendio's photos are postcards from her dreams. These dreams are from the little naps she manages to catch with her job as a cinematographer and editor of a popular video company. The moment this young lady opens her eyes, she sketches these images and later goes back to these sketches, take inspiration and shoot postcards from her dreams.
With no formal training in photography—being a BS Nursing graduate—Aleyn delved into the unknown with her trusted 35 mm film camera and hailing from the quaint city of Iloilo, her photos reflects a certain feel of that folksy countryside. Mixing her style up are influences from Scandinavian folklores and children's books. Already been featured in numerous international magazines, websites and photography blogs, one of Aleyn's dreamy and ethereal photo will grace a book cover of an upcoming young Canadian author, to be released this summer.

Inspired by Ludovico Einaudi's piece Nuvole Bianche, Aleyn Comprendio once again gives you another postcard; this time from her dream shared with you. Aptly called "We'd seen each other in a dream", this exhibit features new works from Aleyn, mostly taken earlier this year. This is honesty and hope wrapped up in simple elegance and charm of film photographs. So travel to that misty mornings and share with Aleyn what is pure, strange and beautiful.


Artist Statement:
I've always wanted to express myself artistically and since I cannot do it in painting or illustrating, expressing it with a camera was possibly the best discovery I've had. Coming from a family of various educational backgrounds, mostly unrelated to art, I had to struggle to prove that there is life in Photography; leaving my 5-year educational achievement to memory. It was and it still is, a roller coaster ride. But in all these, the most piercing thing that this journey in my life as a photographer/ artist has taught me is that you'll always get to be where you want to be if you'll only follow what your heart tells you to do so.

My photographs are a reflection of my soul. How you perceived it, how it makes you feel, is exactly what comes out of my heart and into my eyes.
It is honest, simple and full of life.

If you are to ask me to describe what my photos are like,I would heartily say that they akin to that of author Wendelin Van Draanen's words; "To be held above the earth and be brushed by the wind," she said,"it's like your heart has been kissed by beauty."

Charles Buenconsejo


Charles Nikolas Buenconsejo was born on 1984 and grew up in Cebu. He began his artistic practice as a Painting Major in the University of the Philippines Cebu, but was enamored with photography after his father, a photographer, introduced him to the gifts of the camera. Since then, his pursuit has been to explore ideas, chasing for similar images in his head, and shoot images guided by his intuition. Charles now lives and works in Manila, balancing his time between creating his personal works, doing commercial works, and running an online image gallery for Filipino photographers called
www.every2nd.net
.
For his first exhibit, "Sea Sun and Sky", he just wanted to capture nature in its simplest form. He wanted to leave it as it is and without any cliche. In his personal experience, He noticed that a lot of things change when we get older. Life is slowly becoming complicated as we move forward. Now, his goal in life is to go back to simplicity, and try to live it every day.
Artist Statement:

The inner and outer world share a similar landscape. Photographs bear the evidence, the maps, and the outlines of what occurs inside projected onto the outside world, because the photographer remains the author of each image.

I began my artistic practice as a Painting Major in university, but was enamored with photography after my father, a photographer, introduced me to the gifts of the camera: life documented through the way I see it. Since then, the pursuit has been to explore ideas, chasing for similar images in my head, and shoot images guided by intuition.

It may sound like a cliché, but photography was a window to the world for me, coaxing me to go outside and explore, away from the confines of the world as I knew it. I became more aware of what was happening in my immediate experience, but it also drew clues on what was happening inside of myself, in my life. This caused me to look outside for answers and for even more questions. But then, this is the adventure I choose to make.
"Come forth into the light of things, Let Nature be your teacher."-- William Wordsworth

"To speak truly, few adult persons can see nature. Most persons do not see the sun. At least they have a very superficial seeing. The sun illuminates only the eye of the man, but shines into the eye and heart of the child. The lover of nature is he whose inward and outward senses are still truly adjusted to each other; who has retained the spirit of infancy even into the era of manhood."--Ralph Waldo Emerso



About the Prints
The photographs are all taken with film and analog cameras. The prints on exhibit are of fine art quality from our partner One Workshop. The giclee prints are on all archival quality.The works are framed by a well known artisan framer Frame of Mind. Each work is signed and given a certificate of authenticity and number of prints are declared.



Southern Stories exhibit launch featuring Aleyn Comprendio and Charles Buenconsejo is on Saturday, April 28, 2012, 8PM at Heima, LRI Makati.
The launch will be a special event with friends both from the South and the metro showing their support.
VIDEO TEASER :
http://www.youtube.com/watch?v=t9akNLbBWb8