IT WAS AN EPIC HALLOWEEN! Celebrated at Attica over at A.Venue and I had a blast!
Loved everyone's costumes! As mentioned in previous post, I am going as Natalie Portman's new movie role portraying The Black Swan (from Swan Lake). I was so psyched and thrilled about the movie when I first saw the trailer last July so I decided to make it my inspiration for my Halloween costume.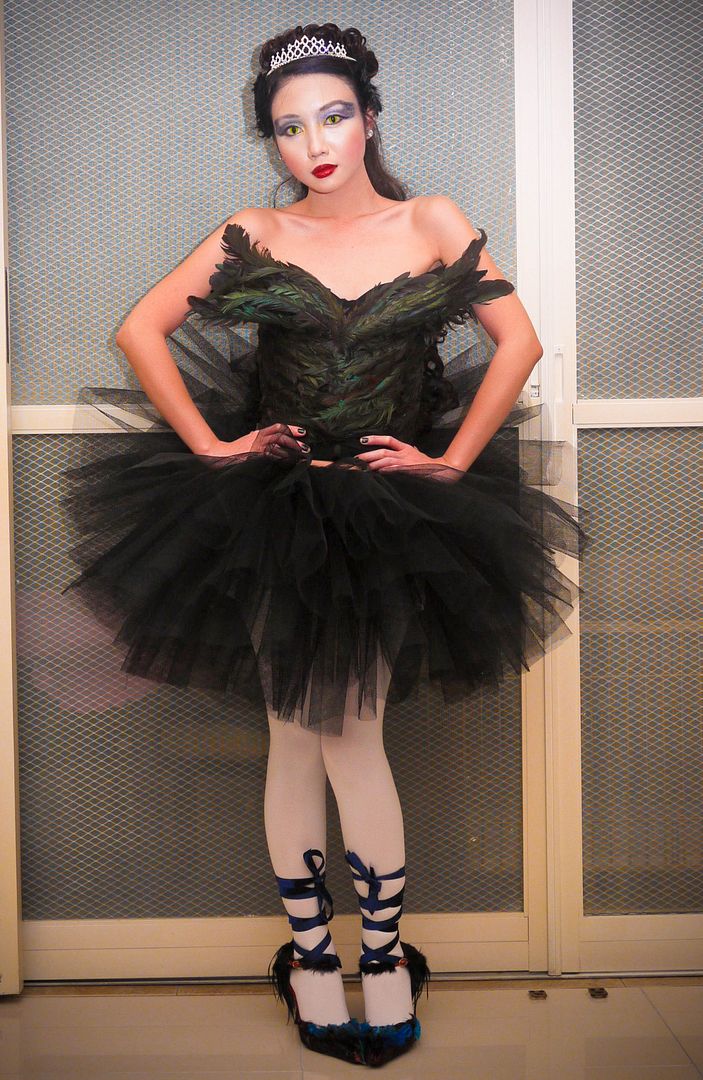 The elements of a swan queen ballerina costume:
Lots of Glue Gun, Patience and Effort.
I gave so much effort to make this costume. The corset is DIY and handmade by me which involves a leather corset base with boning to create shape and structure, lots of feathers (I used two kinds: hard feather under and the softer shinier one on top), glue gun/superglue and time. The top itself has over 300 feather pieces which I glued one by one to the corset. I also added hardeners to achieve the structure of wings in the padded area.
The skirt was also harder than ever. It involves 8 layers of tulle which is equivalent to around 12 yards all in all. This much fabric is essential to achieve the shape of a full ballerina skirt rather than a simple tutu.
Aside from the hard work from the top and skirt, accessorizing also is essential for this look. The swan queen always has a tiara so I decided to get one (in a simple swan-like shape). I also added black feathers to each side of my hair above the ear as done by most Swan Lake ballet costume designers. Instead of the clean tight bun most ballerinas sport, I decided I wanted to be more swan queen than ballerina so I opted to do a swan-inspired hairstyle. For this, I wore two wigs. A clamp style curly poinytail wig and a clip on bun wig. My real hair is hidden under the bun wig and people didn't really know the difference. Nobody could tell it wasn't my real hair!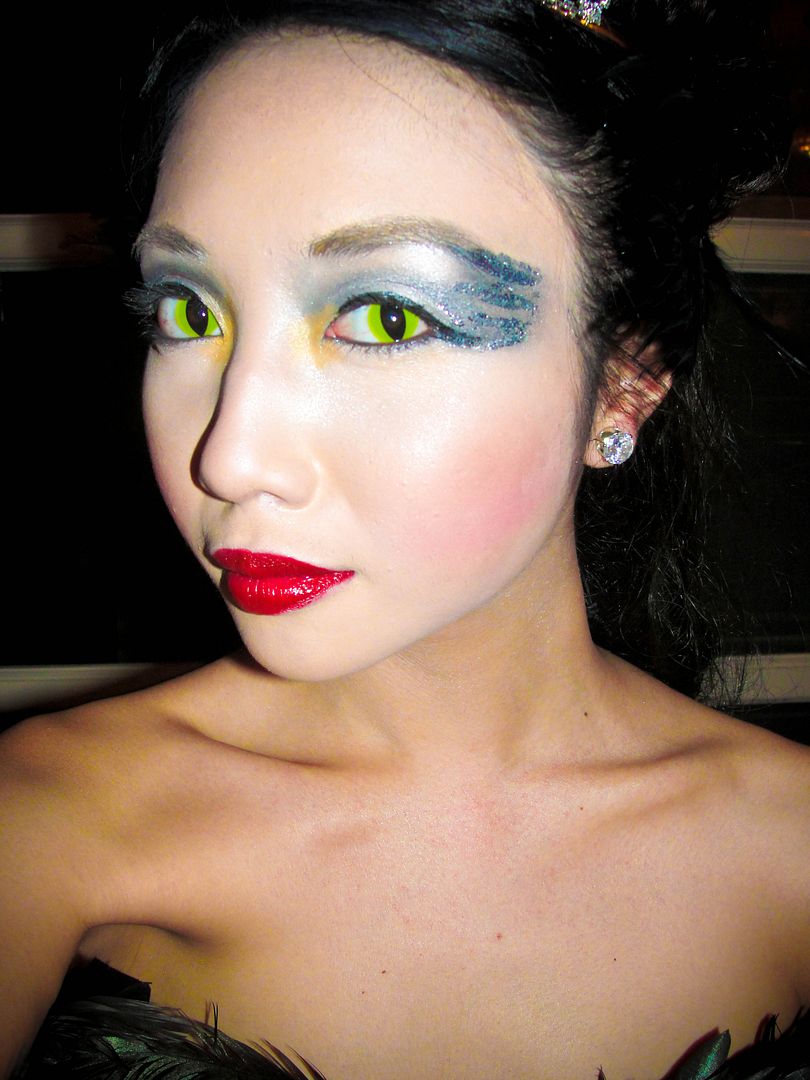 Aside from these, add on feather gloves, feather shoes (I improvised by DIY-ing an old pair of stilettos and adding lace up satin trim (very ballerina inspired) and feathers and white tights. I also did swan like makeup as inspired by the movie poster which was what inspired me to do the costume after I first saw it back in July!
This was quite easier to do since it was basically just an extended and more exagerrated smokey eye...
Avian themed Halloween:
Birds of the same feather...flock together!
I thought of the theme this year and I decided to go all fun and feathery thus the feather rich couture inspired outfits. There's something very elegant and classy about feathers...I knew avian would be such a fierce and fabulous take on halloween and I love how everyone from my group came as birds.I love their support and dedication to the theme I suggested!
I did most of their costumes and helped them out style it. Halloween is a big thing for me, seriously!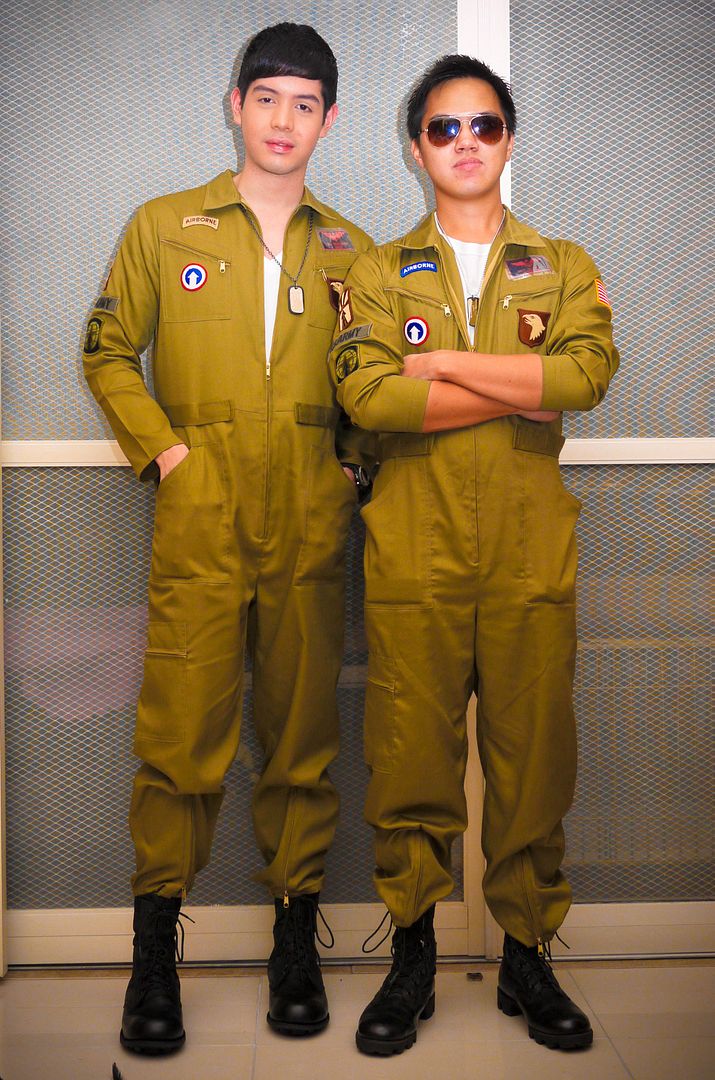 Still in sync with our bird theme (spot the eagle patch), my brother and boyfriend came as Topgun fighter pilots Goose and Maverick. Spot the combat boots, aviator shades, name plates and in character poses they have!

Nina: Peacock
Patrish: Miley in Can't Be Tamed
Enzo and Teej: Goose and Maverick from Topgun
Lissa: Burlesque Bird
Jed: Fierce Big Bird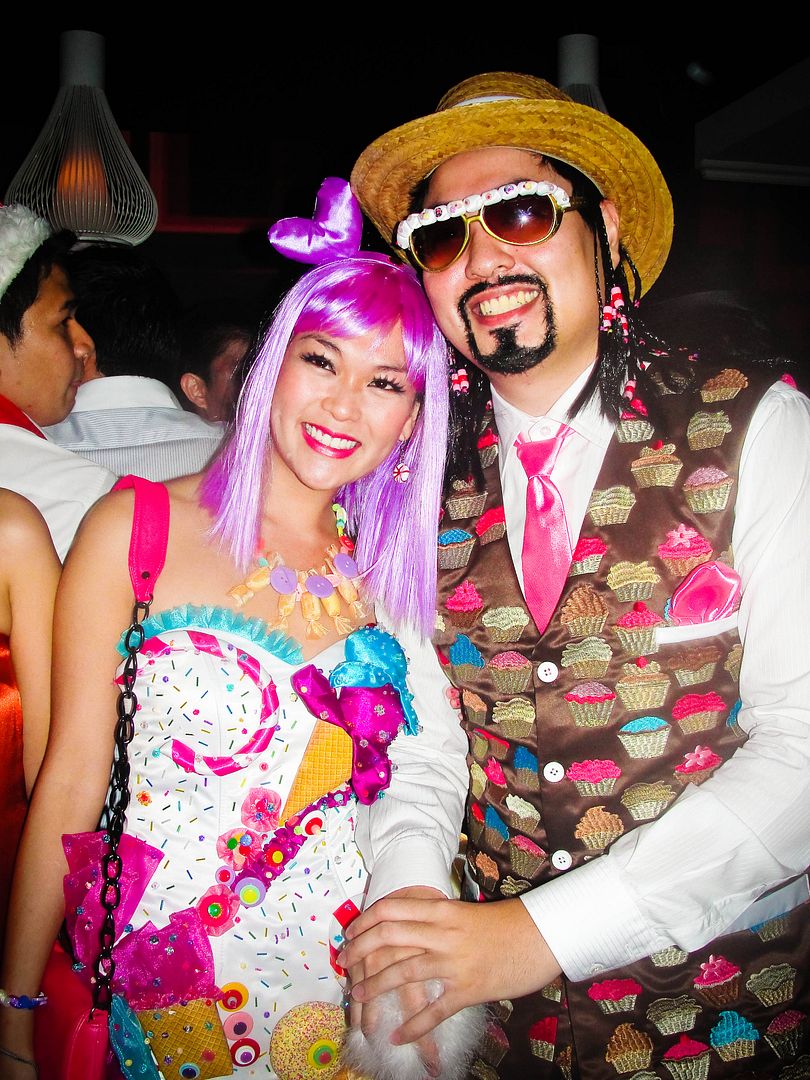 Super best Halloween couple was Audrey and Mark who went as Katy Perry and Snoop Dogg in California Girls. I loved it!
Needless to say,we flooded Attica and shed feathers the whole night...it was worth it though..
Lastly, here's a few shots from the night before (our pre-Halloween celebration) over at Fiamma. I went as Lil' Bo Peep with one tiny sheep... But winner costume of the night was Teeej who came as Mugatu. Everyone loved it and he pulled off the costume I made for him quite well! I loved it! He was like a celebrity that night!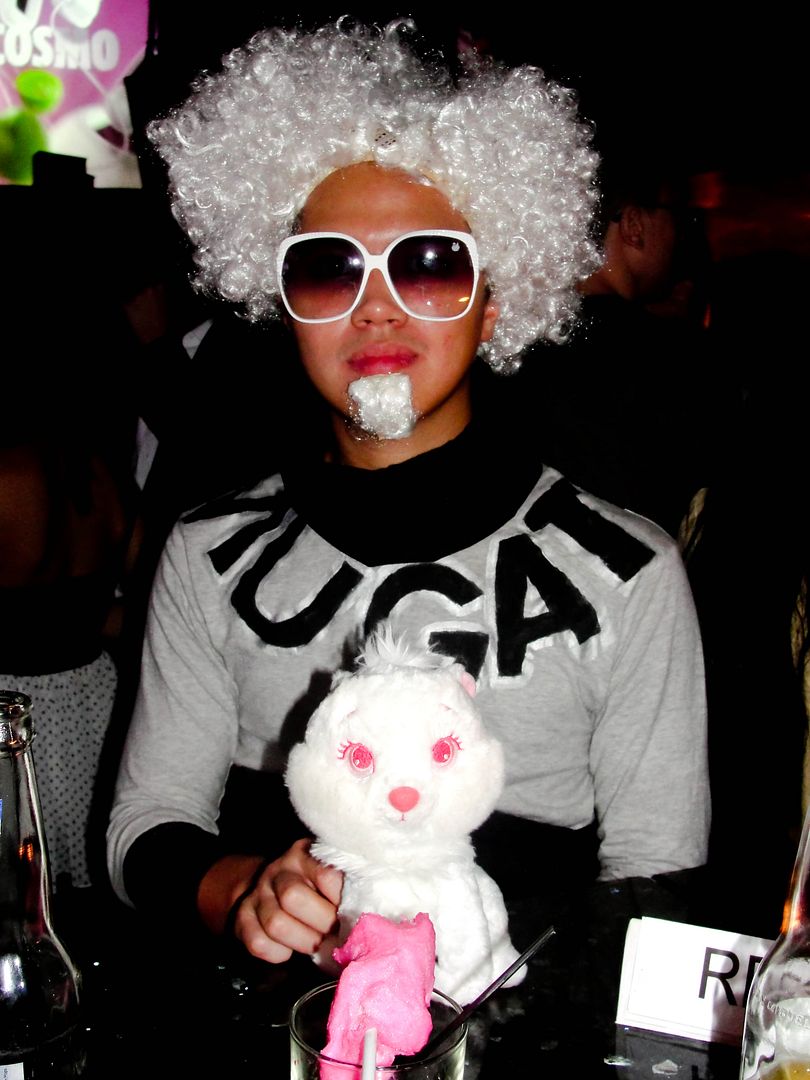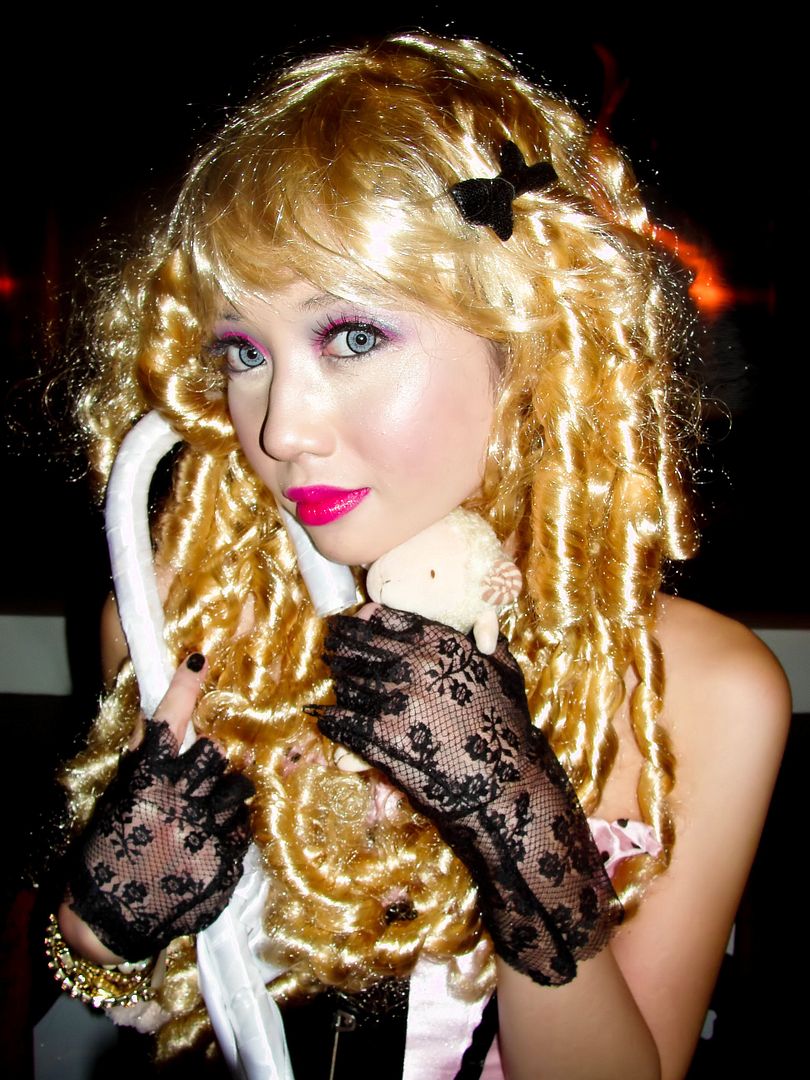 _____________________________________________________________________
2010 Costumes Review:

Notable costumes: Lego Man, Darth Vader, Chuckie and Freddie, California Girl's Backup dancers, Mario Brothers, Jersey Shores' Snooki and The Situation
The forever there costumes that never fails include:
Slutty + (insert profession here) costumes
Schoolgirl
The Doctors
MAFIA Bosses
Playboy
The Lighted Horns Headband
Angel/ Devil
Lady Gaga
Storybook Characters
Tony Stark Arc Reactor
Vampires
Gasoline Boys, Cops, MMDA and Baristas
Terrorist
Military
Fairies
The Greeks and Romans
Belly Dancers
Major Halloween Hangover. More photos and party shots in the next post! Watch out for that!
PS: Now that we've played dress up and all, let us not forget to honor our loved ones who have crossed over..Say a prayer for the dearly departed or visit the cemetery if you can!
xx